Local Housing Collaborative Embraces 'YIMBY' Movement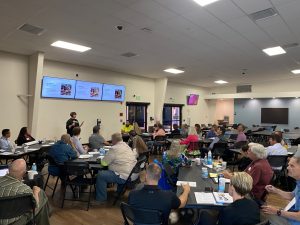 Tuolumne County Housing Collaborative Meeting

View Photos
Sonora, CA — With growing challenges in finding workforce housing, there is a nationwide "YIMBY" movement, or "Yes in my backyard."
The idea is to bring counterpoints against the "NIMBY," not in my backyard mindset, which thwarts many housing proposals.
The Tuolumne County Housing Collaborative made up of business, government, Tribal, and non-profit leaders, held a biannual meeting this morning at the Chicken Ranch Rancheria. The keynote speaker was Jes McBride, the Chapter Operations Manager for the non-profit Yimby Action organization. The group started by advocating for housing in San Francisco, one of the most challenging locations related to cost and availability, and has expanded to many other cities and towns.
McBride pointed out that the median home price in Tuolumne County has gone up $100,000 over the past four years. The price is also going up for renters. When housing is limited, it often forces workers, noting professions like teachers, healthcare workers, and firefighters, to look at other areas for employment.
The YIMBY idea focuses on removing housing obstacles, encouraging people to tell stories about their challenges, and building community coalitions.
After the speech, there was a "Table Talk" portion where small groups sat together, and spoke about whether a YIMBY organization would be beneficial in Tuolumne County. Groups then reported about their conversations, and collectively agreed it would be a positive.
Toward the end of the meeting, there were also presentations about housing projects already in the pipeline in Tuolumne County. For example, Columbia College President, Dr. Lena Tran detailed a plan to build a new dormitory on open land next to the Oak Pavilion on campus. The hope is for a facility with around 100 beds that could be rented by students for around $650 per month. They are currently waiting on state funding to move the proposed project forward.
Tuolumne County Supervisor Kathleen Haff gave an overview of the Valley Dale Housing Development that is proposed by the Stanislaus Regional Housing Authority. It would be built on county-owned land on Peaceful Valley Oak Road. The 55 units would be designated as workforce housing, with income thresholds, and provide one, two and three-bedroom units. She stressed that she was speaking neutrally as an elected government official, and the presentation was informational only.
Developer Greg Popovich talked about a planned 46-lot Cuesta Heights project in the City of Sonora, in the area of Shaws Flat Road, near the entrance of the existing Cuesta Oaks. Because of delays in permitting, he is now seeking new investment funding.
Trinity Abila of Tuolumne County Habitat for Humanity highlighted plans to build the first two homes in the county that will utilize 3D printing technology.  They would be in the existing Parrotts Ferry Village and be designed around the idea of "aging and place" and rented to older residents in the county.
The organization is also planning to develop 9.2 acres next to the Parrotts Ferry Village to become a "multi-generational subdivision" in partnership with Blue Zones. There will be trails and other aspects that will be announced later.
There was also a presentation by the architect designing the transformation of the Twain Harte Shopping Center, transitioning open retail space into apartments.
Other speakers throughout the morning included Tyler Newson with Adventist Health Sonora, Supervisor Jaron Brandon, and Sonora Area Foundation Executive Director Darrell Slocum.
The Housing Collaborative arose out of a conversation Supervisors Haff and Brandon had with Abila, introducing her to the Emergent 3D builders out of Redding. They suggested that they needed to do a housing symposium. Other members of the intial core team were Slocum and Tom Crosby.  The goal is to bring people together and look at solutions to address the local housing crisis.