Mixed Vote On Final TC Planning Commission Seat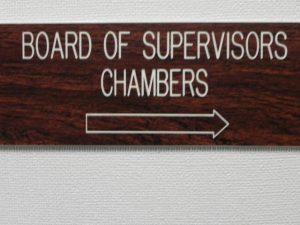 Tuolumne County Board of Supervisors Sign

View Photo
Sonora, CA — The Tuolumne County Board of Supervisors was tasked with appointing some new members to the planning commission.
It is an influential role as the commission makes both land use policy decisions and recommendations to the board of supervisors. Three seats on the commission recently expired, Larry Beil in District Two, Jim Jordan in District Three, and Mike Gustafson who is an at-large member.
District Two Supervisor Ryan Campbell thanked Beil for his four years of service, and stated that he did an "exemplary job." Campbell said that Beil recently moved out of District Two and is no longer interested in filling the role. Campbell recommended that local attorney Jim Cherry be selected, and it was approved with a 5-0 vote.
District Three Supervisor Anaiah Kirk then moved that Jim Jordan continue as the commissioner in his district. Kirk said Jordan brings "a lot of experience in this realm" and he always appreciates hearing his concerns and opinions. Jordan was then also approved, 5-0.
For the at-large seat, Board Chair Kathleen Haff recommended that Mike Gustafson stay in the role. Supervisors Campbell and David Goldemberg said they preferred Wes Brinegar, a member of the local Fire-Safe Committee. Supervisor Jaron Brandon voiced backing for Brad Vondrak, the President of the Tuolumne County Association of Realtors. Supervisor Kirk then stated positive things about both Brinegar and Vondrak.
During the public comment period, Tom Crosby voiced support for Vondrak on behalf of the Tuolumne County Business Council.
Seeing that she was the lone vote in favor of Gustafson, at that point, Supervisor Haff stated she would shift support to Vondrak.
When the final vote was called, Kirk sided with Brinegar, along with Campbell and Goldemberg, and Haff and Brandon went with Vondrak.
Cherry, Jordan and Brinegar will now serve four-year terms on the commission. They join existing members Linda Emerson, Kara Bechtle, Jerry Morrow and Catherine Santa Maria.