Update: Flooding And Storm Impacts Around Mother Lode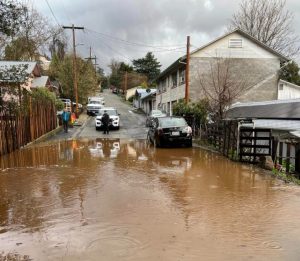 Shepherd Street Sonora Flooding

View Photos
Update at 5:28pm: Thankfully the water is starting to recede in many areas of the Mother Lode this evening, but flooding is still and issue in some areas. The Sonora Police Department has released a list of additional road closures this evening. They are as follows:
-Southgate Drive is closed at Stockton Rd. Residents are urged to remain in their homes.
-Fairview Lane at Stockton Rd.
-Woods creek is also closed at Stockton Rd.
-Both lanes of Stockton Rd are open, but flooding remains in the area. Drive with caution.
-Be cautious of debris on the roadways for the coming days while Public Works makes their way around the city to clean up storm debris.
-If you see standing water on a roadway, turn around and do not attempt to pass.
-All parks in the city are closed until further notice.
Update at 5:15pm: The Tuolumne County Office of Emergency Services is requesting the public to limit transportation this evening, unless it is essential, due to flooding around the county. Emergency crews are already stretched. All non-emergency calls should be made to the OES office at 209-533-6395. The Tuolumne Resilience Center on Bay Avenue is open for people who have flooding damage and need a place to stay.
Original story at 5pm: Sonora, CA — A major storm system this afternoon brought heavy hail, a tornado and flooding across the Mother Lode.
The tornado warning for Tuolumne and Calaveras counties ran from around 2:45-3:15pm. The heavy hail led to many creeks flooding in the region, and notable flooding, including in downtown Sonora. Many side streets are closed, so trave with extra caution if you must be out.
A flash flood warning is in effect until 6:15pm.
There is also confirmed roadway flooding, according to the CHP, in Tuolumne County at Standard Road near Camage Way, Sunny Circle near Hillsdale Drive, Rawhide Road near Highway 108, Campo Seco Road near Martin Lane, Highway 108 near Via Este, Highway 49 near Rawhide Road, and Highway 49 near Wilcox Ranch Road. There is a full closure due to a roadway washout on Highway 120 at Hardin Flat Road.
In Calaveras County, there is flooding at 749 Mountain Ranch Road, and Ponderosa Way at Summit View Drive.