Cleanup Continues Sunday From Flooding And Storm Impacts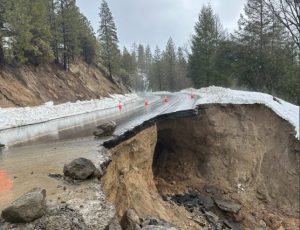 Highway 120 near Hardin Flat Road

View Photos
Sonora, CA — Most of the roads that were closed on Saturday due to flooding have reopened, according the CHP.
There are still some side streets, including around downtown Sonora, which remain closed. Road crews are out clearing drains again today ahead of additional rain projected throughout this week.
There is still a hard closure of Highway 120 from Hardin Flat Road to South Fork Tuolumne Bridge due to a road washout, according to Caltrans.
To view the latest from the National Weather Service, click here. 
Other information below is from the Tuolumne County Office of Emergency Services.
Today as residents begin to assess the damages from yesterday's storm, the Tuolumne County Office of Emergency Services would like to ask that residents and business owners call   209-533-6395 to report any major flooding or damages as a result of recent storms.
We are looking for pictures of impacts from yesterday storms including flooding of buildings, roadways, critical infrastructure including if anyone saw a tornado touch down within the county lines. Please email those to oes@co.tuolumne.ca.us.
Whether it was the snowstorm from last week or the storm cell that came into our county Saturday March 11, for those reporting damages please submit an online form https://forms.office.com/g/35bzfYgKdV or call 209-533-6395 so that we can take your information over the phone.
With the Proclamation of a Local State of Emergency, if we have over 25 individual property owners or businesses with over 40% damage to their buildings, business or homes, then we can request Individual Assistance be available to those that qualify. We need your help in identifying all of the damages that Tuolumne County has sustained.
While we take the day to recover and assess, please be cautious of debris on the roadways for the coming days.
If you see standing water on a roadway, turn around and do not attempt to pass. We will continue to monitor our stream levels and update information as it becomes available. For road closures and other information please visit https://www.tuolumnecounty.ca.gov/385/GIS
For those individuals or families displaced from their homes due to flooding, structure fire or roof collapses, please go to the Tuolumne Resiliency Center at 18241 Bay Ave where Redcross staff will assist you or call Redcross directly at 1-844-236-0153.
There will be available a limited number of already filled sandbags. Should those supplies run out, please bring you own shovel and bags.
·                Columbia – Airport parking lot @ 10723 Airport Rd (please look for the orange cones)
·                Tuolumne – Filled bags available at Tuolumne City Fire Station on Main Street and
Tuolumne – Sand available 18870 Birch Street or at Parkview Ln and Chestnut Ave
·                Jamestown – On the corner of 7th Ave and 8th St
·                Big Oak Flat / Groveland area – 11242 Wards Ferry Rd