Weekend Road Hazards, Closures, And Warming Facilities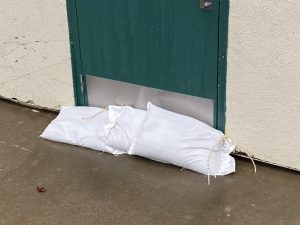 Sand in sandbags to prevent flooding

View Photo
Sonora, CA — There are several traffic hazards this morning in the Mother Lode.
In Tuolumne County, three large boulders are blocking the eastbound lane of Parrotts Ferry Road, just before the bridge. First responders are on the scene of a solo-vehicle crash on Highway 108 near Tulloch Dam Road in the Keystone area. The CHP reports the vehicle overturned. There is no word on injuries. Also, there is a section of Highway 120 in the Groveland area that is flooded near Hardin Flat Road. The highway is closed from that intersection to the South Fork Tuolumne Bridge.
To read the latest on National Weather Service advisories and watches, click here. 
TCOES provided these current road closures as of 6 p.m. Friday, March 10 due to storm-related issues:
Old Priest Grade
Wards Ferry Rd
Buchanan Rd
Fish Hatchery Rd
Mi Wu St
Red Hills Rd
Sims Rd
Bell Mooney Rd
Hells Hollow Rd @ Big Creek
Kelly Grade-Marshes Flat Rd
Long-Term Road Closures:
Marshes Flat Rd – Moccasin Ranch to Sunset Oaks
Wards Ferry Rd – Richards Ranch Rd to Last Driveway on Big Oak Flat Side
With the weekend bringing periods of rain, mountain snow, and flooding concerns, Tuolumne County Public Works wants to remind the public of sand locations. A limited number of pre-filled sandbags will be available. Should those supplies run out, please bring your own shovel and bags:
Columbia – Airport parking lot @ 10723 Airport Rd (please look for the orange cones)
Tuolumne – Filled bags available at Tuolumne City Fire Station on Main Street and
Tuolumne – Sand available 18870 Birch Street or at Parkview Ln and Chestnut Ave
Jamestown – On the corner of 7th Ave and 8th St
Big Oak Flat / Groveland area – 11242 Wards Ferry Rd
Bags will be limited to 10 per person so that we can try and help as many as possible. Sand is unlimited if you bring your own bags.
Calaveras County Sandbag locations:
-Arnold Branch Library, 1065 Blagen Rd.
-Murphys Fire Station, 37 Jones St.
-Vista Del Lago Cul-de-sac near Valley Springs Dental, 313 Vista Del Lago
-Mangili Rd. Cul-de-sac at Valley Springs Sports and Fitness, 145 Mangili Rd.
-Mountain Ranch Community Center Parking lot next to the Public Safety Substation, 7869 Whiskey Slide Rd.
-Copperopolis Fire Department, 370 Main St.
-West Point Volunteer Fire Department, 195 Spink Rd.
-Glencoe Maintenance Yard, 16151 Hwy 26 (Open from 7:00am to 3:30pm)
-Jenny Lind Yard 11558 Milton Rd. (Open from 7:00am to 3:30pm)
-San Andreas Rd Yard, 891 Mt Ranch Rd. (Open from 7:00am to 3:30pm)
Tuolumne County OES officials ask property owners to try and have any snow removed from roofs. They advise that those noticing any of the following should contact a qualified professional to assess the structure and provide advice: cracks or other new damage to wall or ceiling finishes; sagging of your roof, leaky ceilings; noticeable creaks or other new unusual sounds; doors or windows that become difficult to open or operate; or identifying any other new or unusual issues with the structure.
"While we will not be reaching the threshold identified in the Tuolumne County Extreme Temperature Contingency Plan, Tuolumne County OES, Health and Human Services, Public Health, Behavioral Health, Homeless Coordinator, and Animal Control staff are supporting an inclement weather plan to aid those seeking relief during the expected weather.
Public places that will be open this weekend during the day:
Saturday, 10:00 AM to 6:00 PM
480 Greenley Road Sonora, CA 95370 Ph: 209-533-5507
Tuolumne and Twain Harte Library
Sat, 10am-2pm
Sat, 10am-2pm
Temporary Evacuation Center: For those individuals or families that have been displaced from their homes due to roof collapses, structure fires, or flooding of their house, please go to the Tuolumne Resiliency Center located at 18241 Bay Ave. in Tuolumne, which is open and staffed 24/7 by Red Cross and county employees to provide intake and referrals to available services. This is not a shelter but a temporary evacuation center that will remain open through the weekend to assist those households that have had to leave their homes.
For those that need assistance with sheltering animals, please contact Tuolumne County Animal Control at 209-694-2730. Animal Control is open Monday through Friday from 9 a.m. to 4 p.m. For after-hours animal emergencies, please contact the sheriff's office dispatch at 209-533-5815.