Name Announced For Sonora Police Department's New K9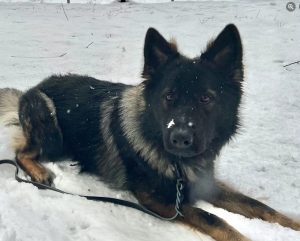 Ridge - SPD K9

View Photos
Sonora, CA — The Sonora City Council had a chance to meet the newest member of the police department at last night's meeting.
"Ridge" is a male, 15-month-old, German Shepherd. We reported earlier that the PD sought the community's input in picking a name, and Police Chief Turu Vanderwiel says 590 people took part in the online survey. Chief Vanderwiel says the top-vote-getter, "Ridge," is in "recognition of the beautiful topography in Tuolumne County."
Other finalists were Leonidas, Jager and Conan.
The council voted unanimously to accept both an $11,000 donation from the non-profit Friends of the Sonora Police Department for the dog's acquisition and training, in addition to a 2015 Chevy Tahoe, that will be outfitted and used exclusively as the K9 patrol vehicle.
Chief Vanderwiel noted that the Friends of the Sonora Police Department organization evolved after local resident Faith Hamilton did a "supporting the blue" high school senior project in 2020 to raise money for law enforcement efforts. It later grew into a non-profit organization, founded in 2021, which now has a board of directors.
In response to the donations to the police department, Mayor Mark Plummer concluded, "It is an incredible gift to our community."
The PD last had a K9 unit in the late nineties.
After the vote, the Council also had a moment of silence in recognition of the passing of the late  Police Chief Duane Ellis, who happened to be the department's first K9 handler, and left behind a lasting legacy. To read an earlier story about Chief Ellis, click here.