Disabled Parking Permits Under Fire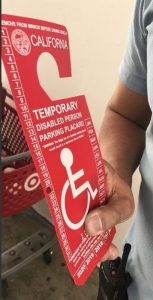 DMV disabled placards

View Photos
Sacramento, CA — California Auditor Elaine Howle is scolding the Department of Motor Vehicles (DMV) for not scrutinizing applicants better before issuing the placards.
Howle's report, released on Tuesday, claims that the state gives disabled parking permits to people who do not provide enough medical information to actually prove that they need one. The state auditor's office reviewed 96 DMV applications that were approved and found that 73 percent of approved applications did not adequately describe the disability. Nearly one in five also included a medical provider's signature that didn't match the one on file with the licensing health board. Additionally, some medical providers that certified the applicant's disability were not authorized to do so. Even more troublesome, Howle's report discovered that the DMV has not canceled permits for 35,000 people who are probably dead.
The states auditor's office provided this list of improvements the Legislature should require of the DMV:
Require DMV to seek the assistance of health boards and conduct quarterly audits of applications for placards or plates.
Require DMV to use the federal death master file to inform its efforts to identify deceased placard holders and cancel their placards.
Steps the DMV should take:
Establish goals regarding the number of sting operations its district offices should perform each quarter.
Develop and implement an application, database, or other technology to allow local parking enforcement officials to have immediate access to placard status information.
The placards and license plates issued by the DMV allow people to park in disabled spaces, free in metered spaces and exempt them from time limits on spaces.