More Time To Voice Opinions On State Fire Hazard Severity Zones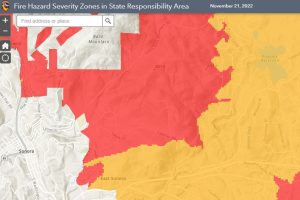 CAL Fire State Responsibility Area Fire Hazard Severity Zones map

View Photo
Sonora, CA – The public will get another two months to give feedback on CAL Fire's mapping of State Responsibility Area Fire Hazard Severity Zones.
In December, CAL Fire released a new statewide map reflecting increasing changes in fire hazards for only the unincorporated, rural areas of the state. The zones rank areas as moderate, high and very high fire hazards, as earlier reported here. Three public hearings were also held in the Mother Lode since that announcement.
The original public comment period was to run through Feb. 3rd, but CAL Fire's Office of the State Fire Marshal is adding another 60 days for comments, which extends the deadline until April 4. That will have given the public a total of 110 days to voice their opinions. For more information and to view the maps, click here. Questions can also be asked 24/7 by either calling CAL Fire's hotline at 916-633-7655 or sending an email to FHSZinformation@fire.ca.gov.