Sonora Bank Shut Down Due To Flooding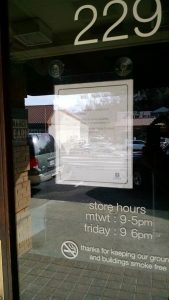 Umpqua Bank posted closed sign

View Photos
Sonora, CA – Customer at the Umpqua Bank in downtown Sonora found the doors locked on Friday.
A sign on the front door of the bank, located at 229 South Washington Street, alerted customers to a temporary closure due to an "emergency," but no further details.  A peek through glass door revealed water coming from the back of the building into the bank lobby. A call by Clarke Broadcasting to the Junction Shopping center branch confirmed flooding on the first floor prompted the shutdown. However, no information was available on what caused the flooding, repairs or when the bank will reopen.
The posted sign also apologized for any inconvenience to customers and asked them to visit its other branch for service.