Caltrans Plans Beginning Feb. 26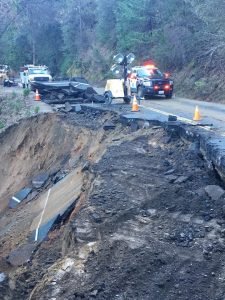 HWY26 washout damage

View Photos
Sonora, CA — With a much drier forecast in store than the Mother Lode has seen in weeks expect Caltrans crews to be busy along several highways.
This week at the Highway 120 James E. Roberts Bridge at Lake Don Pedro overnight closures return, to enable making more headway on extensive renovations underway through late fall. The span is scheduled to close Sunday through Thursday nights at 5 p.m. and open at 7 a.m. the following morning. Plan for 20-minute travel impacts during these times while following the detour signs in place. Daily from 7 a.m. until 5 p.m. the bridge remains under one-way traffic control, which typically results in ten-minute waits.
Also look for ten-minute delays in store daily along Highway 120 in at least three spots between Ferretti Road to the South Fork Tuolumne Bridge. These include Monday utility work between Ferretti and Elder roads from 7 a.m. to 4 p.m.; Tuesday tree crews between Elder Road to Tenaya School from 8 a.m. to 3 p.m.; also daily slope repair and cleaning between Forest-Packard Canyon Road and the South Fork Tuolumne River Bridge from 7 a.m. to 5 p.m.
Along Highway 49, drainage repairs along the shoulder every weekday between Highway 120 and Bear Valley Point from 8 a.m. until 4 p.m. may generate momentary delays.
Calaveras Cone Zones
Tree work on Highway 4 continues every weekday, likely bringing more ten-minute traffic stack ups where cone zones, placed between Batten Road in Vallecito and Meko Drive in Camp Connell, are in place from 6:30 a.m. until 5:30 p.m.
Along Highway 26 expect more ten-minute interruptions every weekday in two areas. The first is between Gill Haven Drive and east of Alabama Hill while slope repair and clearing is going on from 7 a.m. until 5 p.m.; the second is between Highway 49 in Mokelumne Hill and the Calaveras/Amador County line during tree work from 8 a.m. until 3 p.m.
Remember that Highway 26 remains closed — probably until early April — between Higdon Road and the North Fork Mokelumne River Bridge near West Point for road repairs due to recent storm damage. Travelers should plan for delays of up to an hour while using the alternate routes. The eastbound detour uses northbound Highway 49 to eastbound Highway 88; the westbound route is Highway 88 to southbound Highway 49 onto Highway 26.