Ahead Of Trick-or-treaters, Mountain Lions Surfacing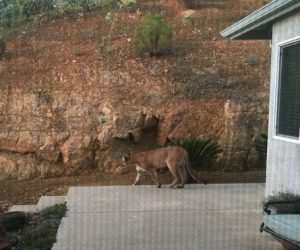 Cougar spotted in Sonora off Racetrack Road, 2015

View Photos
Sonora, CA – Along with Halloween and notes-to-selves to get that flu shot, October often brings reports of mountain lion sightings. Mother Lode law and wildlife officials say, if you see one, let them know right away.
Mountain lions, also called cougars, pumas or panthers, are the largest of North America's wild cats. Today, Clarke Broadcasting reached out to enforcement agencies after two calls in as many weeks came into the news center from local residents. Last week, someone reportedly saw a mountain lion near Soulsbyville Elementary. This morning, a school bus driver called to say she spotted one near Christian Heights Church.
Tuolumne County Sheriff's spokesperson Sgt. Andrea Benson emphasizes, "We stress that [people] call us, so we can go and check safety of people and get Fish and Wildlife out." According to Sonora Police Chief Mark Stinson, "We haven't received any calls [yet] but notoriously, October is a normal mountain lion sighting month for our city, unfortunately, and the sightings run throughout the city…in the past, of [reports] actually on Mono Way…up in the hills behind Sonora Regional Medical Center and Sonora Elementary School – all the way up into the area of Elks Hill. So it is not uncommon to have sightings of mountain lions traveling through our area."
Keep Kids, Domestic Animals, Livestock 'Off the Menu'
Certainly, the chief adds that it is always concerning when these predatory big cats are observed in areas of children. Recalling an incident a couple of years back, he shares, "We actually had a temporary lock-down of Sonora Elementary School because one was spotted in the field directly behind the school. It brings concerns because these are predators that like to attack things if they are extremely hungry." Passing along a few timely tips, Chief Stinson advises, "Normally, this time of year you want to keep your small pets inside, if you can. Don't let them wander too far out of sight — and keep an eye on your livestock as well."
Wildlife experts say that this time of year do not hike or run alone and consider carrying a walking stick, which may be come in handy if you have to defend yourself. If you spot a mountain lion, observe to see what kind of behavior it is showing and do not run away. "If you think one is stalking you or about ready to attack, make yourself larger than you are, so you look like you are a predator of it and not game of it," the chief emphasizes. If facing a potential mountain attack, best practices include to shout in a low voice; do not crouch down but wave your arms or hold your coat open to increase your perceived size; maintain eye contact; if possible, throw sticks or rocks at it; also, pick up or otherwise restrain small children to keep them from running. If attacked — fight back.
While deer, if in stress, might sound more like human babies crying, Chief Stinson describes the sound of mountain lions as more of a high-pitched scream. Usually, they are most active at dawn and dusk, and at night when they hunt for food. You may report non-aggressive mountain lion sightings by calling local law officials. Or contact California Fish and Game at 916 358-2900. In the event of a potentially perilous situation always call 911.