GOP: The Failed Policies Of Obama and Hillary Clinton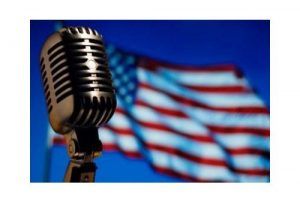 Microphone and US Flag

View Photos
Senate Candidate Todd Young (R-Indiana) delivered this week's Republican address where he talked about what he feels are failures in the Obama administration.
Young was Tuesday's KVML "Newsmaker of the Day". Here are his words:
"Hello, my name is Todd Young, and I'm a proud Hoosier and Marine representing Indiana's 9th Congressional District.
When I was first commissioned as a Marine Corps officer, I went to The Basic School at Quantico. One day, after shooting on the range, I cleaned my rifle and brought it back to the officer in charge of the armory. He declined to take it, telling me it wasn't clean enough. Frustrated, I told him it was as clean as when I checked it out.
He responded: 'Lieutenant, this is the United States Marine Corps. We leave things better than we found them.'
Today, Hoosiers – and all Americans – are looking back at the last eight years and ahead to the next four, I think we would be well served to ask whether Barack Obama and Hillary Clinton's leadership in Washington has left things better than they found them.
As I've traveled Indiana over these last few months, I think the answer is clear: The failed policies of Barack Obama, Hillary Clinton, and Democrats in Congress have left many Hoosiers worse off. They feel less safe and secure; the prospects of getting a good education that leads to a good job are narrower; and the burdens of government regulation and Obamacare are choking families and small businesses.
It's time for a new way forward in each of these areas.
First, national security. As a Naval Academy graduate and Marine Intelligence Officer, I understand the expanding threats America is facing. For the last eight years, President Obama and Secretary Clinton have shrunk from the national stage, acquiescing to foreign powers and paying ransom to our enemies. Republicans want to America to be strong and engaged, not weak and disconnected. I have advocated for a new style of leadership, and my fellow Republicans and I believe that if we are wise and committed, the future of America is promising.
On the economy and education, it's getting harder and harder for families to get by and get ahead. My wife Jenny and I have four beautiful children. And we want for them what every parent wants: a good education that leads to a good-paying job and a meaningful career. But the rising costs of college, abetted by a government takeover of student loans is putting the squeeze on families. Republicans think the answer lies not in the Department of Education in Washington, but at home here in Indiana. I've authored a bi-partisan bill that will help American students graduate from college debt-free. Income Share Agreements are already working at Purdue University here in our state, and they can work everywhere, allowing graduates to pursue their dreams and take risks without lenders breathing down their necks.
Finally, on health care. I talk to Hoosiers almost daily who have been burdened by Obamacare. Whether it's a family who can't afford the skyrocketing premiums, or a small business that can't afford to hire more employees, Obamacare is a boulder on the back of our economy. Republicans know we can't continue down this road. We need to repeal Obamacare and offer a better solution to our nation's healthcare problems. I've authored the Save American Workers Act to repeal the ludicrous Obamacare provision that changes the definition of 'full-time work' to 30 hours a week. I've also authored the REINs Act, a bill that will cut regulation by unelected bureaucrats by giving Congress the final say.
My parents aren't very political people. They probably only listen to addresses like this when their son does them. Mom is a nurse. Dad is a small business owner. They always taught me that hard work and big plans were the gateway to the American dream. Like many Americans, after eight years of failed Democrat leadership, they are frustrated that the dream is being mortgaged.
I'm frustrated too, but it's not enough to stew in our own frustration. We must act. We must be bold, courageous and decisive. And we must get America back on the path toward prosperity.
We must chart a new course toward safety and opportunity.
Thank you, and God bless Indiana, and the United States of America."