Powering PAWS With Nature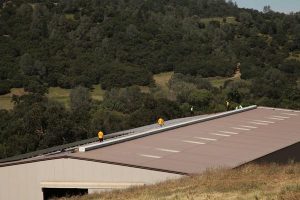 PAWS solar panels

View Photos
San Andreas, CA – The Performing Animal Welfare Society (PAWS) sanctuary in San Andreas has gone green to light up its 2,300-acre ARK 2000 natural habitat refuge.
Energy from the sun through solar panels on the roofs will provide electricity to offices and barns for the sanctuary's eight Asian and African elephants along with other animal buildings. "With this solar energy system, PAWS will dramatically reduce the amount of fossil-fuel generated power we use and set an example of good environmental stewardship," said PAWS President Ed Stewart. "PAWS is committed to providing a better life for captive exotic animals, as well as conserving our planet and its wildlife."
It will also help the sanctuary's pocketbook with an estimated $1.5 million in electricity savings over 25 years. The 132kW system, which supplies 97% of the sanctuary's electricity, was installed by California-based SUNWorks. On the roof tops of the 20,000 square-foot Asian elephant and 8,000 square-foot bull elephant barns sit 420 solar panels. They generate the equivalent electricity to more than 25 average homes for a year, according to PAWS officials. Additionally, the solar powered system has saved the equivalent of 25 tons of CO2 and carbon pollution equal to burning over 4,000 gallons of gasoline. It also uses no water, a key savings considering California is in the fifth year of a severe drought.
Stewart concluded, "With the conversion to solar power, PAWS further dedicates itself to creating a sustainable world for humans and wildlife."