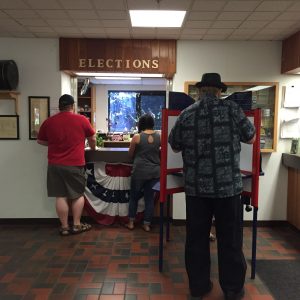 Tuolumne County voters

View Photos
Sacramento, CA — Some state law makers want voters to be able to legally take ballot selfies and post them on social media.
On Monday, the Senate voted 31–8 to repeal a rarely enforced law that makes it illegal to publicize a photo showing how someone has voted. Supporters argue the bill is archaic and did not take into account social media. In recent years, a selfie craze has driven voters to post a picture of themselves and their ballot acknowledging their enthusiasm for voting or for particular candidates.
Calling it a violation of the secret ballot principle, critics counter it breaks down the barrier that protects voters from coercion.
AB 1494 was authored by Democratic Assemblyman Marc Levine of San Rafael states it is a matter of political free speech maintaining that California law should encourage voter pride, political speech, and civic engagement through social media. He adds that it is time to update the law to reflect technology and the world in which we now live.
AB1494 will now head back to the Assembly, which overwhelmingly approved it earlier this year, but must agree to changes made in the Senate.