Californians Continue To Ramp Up Water Conservation Measures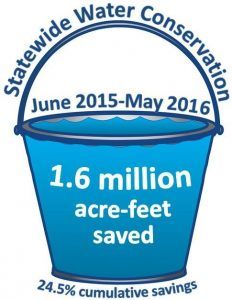 Statewide water savings for May

View Photos
Sonora, CA – Californians ended the final month of mandatory statewide water conservation with a 28 percent savings in May compared to the same time in 2013, the chosen benchmark year.
On Wednesday, the State Water Resources Control Board released the conservation figures for last month. May's percentage was up slightly from April, which posted a 26.1 percent savings in water and a cumulative rate of 24.5 percent.  Calling the savings phenomenal, State Water Board Chair Felicia Marcus praised the public, stating, "Ongoing water conservation by state residents as we enter the hottest summer months clearly shows Californians understand we remain in stubborn drought conditions statewide and that saving water is just the smart thing to do." The state's target was roughly 20 percent and up.
The Mother Lode mostly followed that trend. Tuolumne Utilities District (TUD) and Calaveras County Water District (CCWD) increased their savings from April, while Groveland Community Services District (GCSD) dipped slightly. In May, TUD saw a more than 34 percent increase opposite a 25 percent savings in April and CCWD's figure was over 30 percent, up from 28 percent in April.  GCSD water conservation went down from nearly 23 percent in April to 17.5 percent last month. Both the Tuolumne and Groveland districts' standards are set at 21 percent with respective cumulative savings in May of over 30 and 26 percent when compared to 2013. For the Calaveras district, the cumulative savings was just over 28 percent.
Water officials say during the past twelve months Californians saved enough water to supply eight million people for a year. Marcus maintains, "Rain or shine, drought or no drought, state mandated target or not, Californians should keep conserving. While conditions improved for urban California's water supply with the rain and snow we got last year, we are still largely in drought and saving water can extend urban water supplies off into the future if this next winter is dry again."