Burglars Use A Rock To Bust Into An Area Thrift Store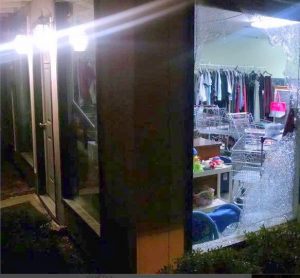 Red Church Thrift Store burglary

View Photos
East Sonora, CA — An alarm alerted Tuolumne County Sheriff's Deputies to the break-in where the thieves broke in using a rock.
Sherriff's officials report the alarm sounded around 2:45 a.m. at the Red Church Thrift Store on Tuolumne Road near Hess Avenue. The thieves were gone when deputies arrived on the scene. Deputies spotted a broken window along with a large rock the thieves used to shatter the glass. (A picture of the damage can be seen in the upper left-hand image box.) Once inside, the burglars ransacked the main office.
Investigators are waiting for footage from inside surveillance cameras in hopes of identifying the thieves.