Major Road Improvements Near Standard Park Begin Monday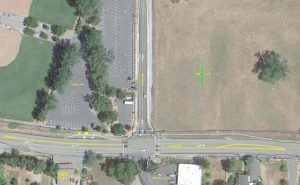 Signalization of Tuolumne Road at Standard Road Project Map

View Photos
Sonora, CA — A $1.2 million roadway improvement project, scheduled to get underway next Monday, is likely to create traffic impacts through June.
Among Tuolumne County's Road Fund Capital Project budget line items, the signalization of Tuolumne Road at Standard Road will be largely financed through traffic mitigation fees paid by Black Oak Casino Resort and the Tuolumne Band of Me-Wuk Indians that channel into the county's Tribal Road Mitigation Fund.
Since it is a highway safety improvement project, state revenues are also being tapped, according to Duke York, deputy director of Tuolumne County Roads. As previously reported here, the project, part of the county's 2012-2016 Capital Improvement Plan, is statutorily exempt from the California Environmental Quality Act (CEQA).
In addition to installing a new traffic signal, plans call for road widening; dedicated right-turn lanes on both roads as well as the addition of sidewalks and a crosswalk. The Tuolumne County Transportation Agency (TCTA) was also able to provide $50,000 to cover the costs to locate a bus shelter there.
Work Crews In Place Through June 
Work zones will be in place on Tuolumne Road between Blue Bell Road and Hatler Drive, as well as on Standard Road, between Tuolumne Road and Camage Avenue. Crews will be at work every weekday between 7 a.m. and 5 p.m. for the duration of the project, slated for completion at the end of June. While George Reed, Inc. was awarded the project contract, subcontractors will include VSS International, Pacific Excavation, Pacific Northwest Oil, and Chrisp Company.
While the improvement work is underway, York asks that the public to be respectful of the construction zone and posted warnings, along with the inevitable delays. "George Reed is planning to minimize the impacts as much as possible," he states. "We have to be respectful also of the uses that currently go on at Standard Park, and so we are working with the people putting on those programs to minimize their impacts as well," he adds.
Opining, York remarks, "The project will obviously benefit a lot of folks,…certainly with the [Sierra Pacific Industries'] mill being there, if they are hauling logs out of Tuolumne, they can get in there a little bit better. One leg of the signal is a commercial driveway that currently serves the Sierra Bible Church…a transit stop will be added, shoulder widening and a crosswalk will benefit an area that will blossom."
It is also an area that could see future growth. It was back in 2010 (reported here) that the county approved a tentative Peaceful Oaks subdivision map by SPI in Standard that includes gradual plans for a 50-acre park on lands across the road.