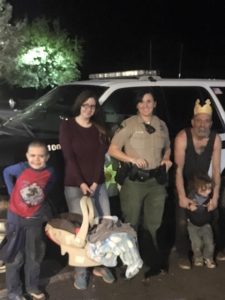 Hughes family and Deputy Ashely Boujikian

View Photos
Tuolumne City, CA — What was supposed to be a fun family weekend turned out to be a scary trip for an Oakdale family, that ended up lost in the woods with little food and water.
An Oakdale couple, wife Ashley and husband David, along with their three boys, 6-year-old David, 2-year-old Sam and 3-month old Hunter found themselves stranded in the Buchanan Road area in Tuolumne City. On February 27th,  the family headed towards a cabin in the area, they took a wrong turn, according to Tuolumne County Sheriff's spokesperson Sgt. Andrea Benson, who states, "They went down a side road and they just got turned around. Their vehicle was stuck and they couldn't get it out. I think from trying to get it out, it ended up messing up the transmission or something within the vehicle's engine."
Four days later on Tuesday, March 1st, the husband went for help and found two people on dirt bikes that brought the family food and water. One of the bikers, Barry Baxter, alerted law enforcement via cell phone around 3 p.m., and then led Deputy Ashely Boujikian and search and rescue member Matt Bloom to the family. All hiked out of the woods to safety. After the trying ordeal, Deputy Boujikian took the family out to dinner and then an area hotel for some much-needed rest.