Despite Subsiding Snowpack, Enjoy Weekend Sun, Guilt-free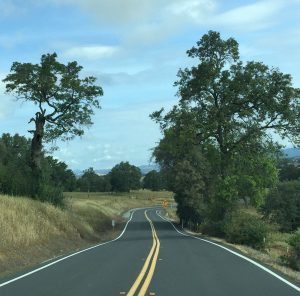 Highway 4, a section of the 'Wagon Trail' in Angels Camp, between Pool Station Road and Highway 49

View Photos
Sonora, CA — While the Sierra snowpack will likely slide below normal during the holiday weekend, state water resource officials say the sunny winter weather is not to blame.
In Clarke Broadcasting's latest weather chat today with Doug Carlson, public information officer for the California Dept. of Water Resources, he pooh-poohs any notions that this week's above-normal warmth is melting away the snowpack.
"With all these wonderful warm temperatures we have been having — and I sure agree that it feels good — it is natural to wonder to wonder whether it is having a bad effect on the snowpack, which is not 'great' this year" Carlson says with a sympathetic laugh. However, as he sees it, there is absolutely no reason for folks to feel guilty about enjoying the sunshine right now. And why is that? As he points out, "The principal thing that affects the snowpack and the melting is not the temperature so much…it is the direct solar radiation. The sun is still relatively low in the sky, compared to where it will be in late March and into the spring, so we are not seeing that much impact on the snowpack from either the solar radiation or the temperatures."
However reassuring over the short-term this may be for weekend revelers and sun worshippers, Carlson notes that the melting in the snowpack is coming soon enough. He admits that the state now appears to be entering a dry spell. As far as the now four-and-a-half-drought is concerned, this means the snowpack may well not continue to build at a rate that it would during a normal year, much less an above-normal one, which is what is needed to boost the state's still critically low reservoirs. According to the latest data, since Feb. 1, the water content percentage of the snowpack has fallen from about 110 percent of normal to where it stands today, at about 101 percent.
Drought-wise, Weather Trends Turning 180 Degrees
Carlson forewarns, "Come Friday…Saturday, with no more snow falling, it will undoubtedly fall below normal for this time of year, which is very concerning. It is a big — frankly, it is about a 180 [degree turn] from where we all thought we were going in January, when we were feeling really good about the amount of snow and rain that had been falling." With no precipitation in sight until the middle of next week, the state looks to head further in this disconcerting direction.
Too, according to the Climate Prediction Center's latest monthly El Nino assessment "discussion," released today, weather models indicate that the already weakening El Nino will continue to subside as the warmer seawater temperatures shift to neutral, possibly by June. As far as The Golden State is concerned, Carlson wryly opines, "El Nino came in with a bang — at least with a lot of expectations — but it would seem that is leaving like a lamb." In the meantime, huge El Nino impacts on global temperature and precipitation patterns that have not been significantly felt in California will continue to create havoc elsewhere, such as in the Mississippi Valley, where tremendous floods have driven communities from their homes.
With April 1, the date when the Sierra snowpack historically hits its peak, still more than a month and a half away, Carlson says it could be a game-changer should California somehow be delivered another "Miracle March" of heavy rains, as it received back in the El Nino water-years of 1982-83, and again in 1997-98. Countering that bright thought, weather experts point out that what was normal back in those years is not necessarily today's norm. Further highlighting that in yellow marker, Carlson recalls that 14 out of the 15 warmest years on record have occurred since the year 2000.
"Whether this dry and warm period will be be followed by a lot of rain, which is what we need…is another thing that we cannot yet predict — and the Weather Service can't predict much beyond ten days or two weeks," Carlson says. In summary, he offers this understatement: "It is a little dicey — we will just have to wait and see how it all plays out at the end of this wet season."