Local Habitat For Humanity Embarks On Biggest Build Yet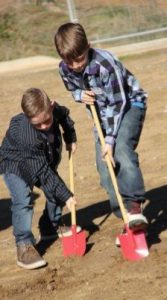 Habitat For Humanity 2016, Kids help 'break ground' on their new home at Parrotts Ferry Village

View Photos
Sonora, CA — A long-time local nonprofit housing group is, literally, setting a groundbreaking pace to bring the Mother Lode more affordable homes.
Come early February, Habitat for Humanity of Tuolumne County (HFHTC), an independent affiliate of Habitat for Humanity International for going on 17 years, will embark on its most ambitious build yet: the simultaneous construction of four homes for deserving local families at its Parrotts Ferry subdivision in Columbia.
The estimated build time for the quartet of 1,200 square-foot homes is about a year, according to HFHTC Executive Director Trinity Abila. Designed to be energy-efficient and equipped for solar-power, each of the units, which all feature three bedrooms and two-and-a-half bathrooms, holds a rough-estimate appraisal value of $190,000.
Still Seeking A Fourth Homeowner
Although owners have already been chosen for three of the townhomes, HFHTC is still seeking one for the fourth, and as part of its outreach efforts, will hold three community meetings in the coming weeks (dates and times are listed at the end of this story). To qualify, individuals or families must meet specific annual income guidelines. For a family of four, the range is between $26,680 and $40,020, Abila notes. Other requirements include a demonstrated need, the ability to pay — and willingness to put in 500 volunteer hours in "sweat equity" during the construction phase.
Ahead of this latest build, Abila states, "We have spent some time gearing up and getting ready, both the community as well as partnership families." As she puts it, "We have seen a need that, in Tuolumne County…the demand is higher than we can produce — so we really needed to step it up…and get more families into these homes, and it has taken an entire community to be able to do this."
According to Abila, through the organization's refocused efforts, plans are to build four units annually, using a professional contractor and plenty of volunteer helping hands. After this round is finished, there will be 21 of 35 planned units still to build within the Parrotts Ferry project. HFHTC hopes that, with a four-a-year pace, the subdivision — originally a $399,000 foreclosure purchase from Umpqua Bank using community donations — might reach completion within the next five years.
Success Through The Sum Of Its Parts
Abila confides that the goal is pretty much unheard of in a rural setting like Tuolumne County, possible only through effective partnerships, volunteer support, land and other resources. "With a [countywide] population of 54,000…if you look at other Habitat affiliates, which are gauged by their population…what we are embarking on is phenomenal," she states.
As for current help needed, she matter-of-factly says, "We are always looking for people to come in [and volunteer]…always looking for resources to help complete the construction." Waxing enthusiastically, she adds, "It is definitely a life changer to work alongside the families and know that you are helping give somebody a home. Even if you don't swing a hammer, we want to encourage folks to come in and talk with us, because there are so many committees and resources that we use."
Among these is the 13,000-plus square-foot HFHTC ReStore, located at 14216 Tuolumne Road, near the Red Church Thrift Store. The ReStore runs using a volunteer staff Monday through Saturday from 9 a.m. until 5 p.m. Too, Abila points out, "Habitat for Humanity doesn't just build houses…we also have a social services aspect…there is a lot of education that happens with a Habitat home and it is our goal to teach [the homeowners] how to be financially successful." This education is largely provided through the volunteer efforts of those with the know-how to help new homeowners navigate the complexities associated with the fiscal and physical management of their new homes.
Modeling More Affordable Builds
Abila, who sits on the county Housing Board, proudly shares that HFHTC is helping model how builders might bring more affordable homes to the area. While she readily admits there is "not a giant profit margin" for contractors, such builds still bring work — and dollars — back into the community.
She notes that HFHTC both buys materials and hires locally; once Parrots Ferry Village is complete, it will have paid over $5 million dollars to county businesses for services and materials. Once in place, the subdivision homeowners, according to HFHTC estimates, will additionally provide nearly $100,000 in annual income from property taxes. As Abila describes, it is all part of a ripple effect that bodes well for a stronger county; when people have more housing choices at the price points they can afford and are able to purchase a home, they are more than likely to stay in the community, instead of leaving to find what they need elsewhere.
HFHTC Advisory Vice-chair Ron Patel, who is also the CEO of Black Oak Casino Resort, says that, for him, it is a source of personal pride; working in tandem with like-minded community members to help those who might not otherwise be able to achieve ownership of safe, affordable homes. He remarks, "[The HFHTC] commitment and ability to build out the Parrotts Ferry Village development is an amazing task for such a small community…they truly follow their mission in providing a 'hand up' rather than a 'hand out' and offer a life-changing opportunity for families willing to commit to owning their own home by perseverance and hard work."
Ownership And Volunteer Opportunities
Upcoming community meetings for those interested home ownership opportunities are as follows: Jan. 27 and Feb. 1,  beginning at 5:30 p.m., at the Tuolumne County Ambulance Center, located on Striker Court; and Jan. 30, beginning at 10:30 a.m., at the Tuolumne County Senior Center on Greenley Road.
HFHTC is responsible for generating its own operations and homebuilding project funding, most of which, Abila says, comes from local donations and grants. To help support the new build through a donation or by volunteering some time, click here.