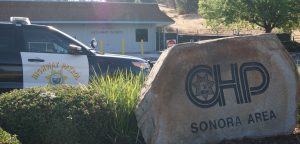 Sonora CHP Unit

View Photos
Sonora, CA — The CHP is reminding motorists while there may not be snow or rain on the roadways – there is black ice.
That is a factor at the Joaquin Gully Road and Meadow Lane intersection in Twian Harte where the CHP reports very icy roads with motorists sliding through the stop sign there. As previously reported, the CHP cited slick roads for Thursday afternoon's solo-vehicle crash that sheered a power pole, leaving thousands of PG&E customers in the dark. It also closed a section of Phoenix Lake Road for nearly ten hours. Officer Nick Norton has this warning for motorists, "It hasn't rained or snowed in the area recently, but with our roadways being so shaded by the trees and the temperatures being so cold, the roads have not been able to dry out and those spots that are icy are going to remain."
Norton cautions motorists to slow down and take their time knowing that those icy spots are out there. He adds that drivers should give themselves extra time to reach their destination so they do not drive to fast for roadway conditions.