10.5 Acre Fire Burns In Yosemite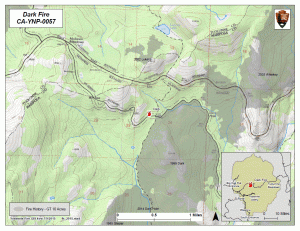 Dark Fire

View Photos
Yosemite, CA — Officials in Yosemite National Park report that a 10.5 acre vegetation fire is burning along Yosemite Creek Campground Road.
The Dark Fire was ignited by a lightning strike in early July, and fire crews have been monitoring it for several weeks in hopes of preventing it from growing out of control. It is situated along Yosemite Creek Campground Road, and smoke has been visible at times from Tioga Pass. Fire officials are conducting some burn-out operations around the perimeter.
It is one of five lightning caused fires currently burning in Yosemite. The only other fire over an acre in size is the Stubblefield incident, burning west of the Pacific Crest Trail.  It is estimated to be 2-3 acres.