Water Officials Surprised By Bleak Snowpack Numbers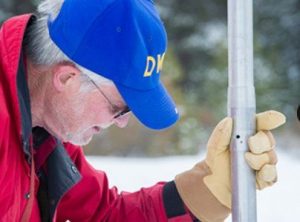 DWR Manual Snowpack Reading
Sacramento, CA —  Officials with the California Department of Water Resources (DWR) conducted the third state manual snowpack reading today and got a surprise, as the numbers are even worse than recent electronic readings.
As reported last Thursday, the electronic readings showed the statewide water content at 19% of the historical average for the date.  DWR spokesperson Doug Carlson says manual readings taken today show a dismal picture of just 13%, the lowest in DWR's records for this time of year.  "That is significantly lower than I think many people were expecting.  It all paints a bleak picture for summertime runoff from the snowpack."
Today's survey found a snowpack water equivalent of just 0.9 inches in the snowpack near Echo Summit, about 90 miles east of Sacramento.  The northern Sierra snowpack is 16% of average for the date, while the central and southern Sierra are 20% and 22% respectively.  Carlson says the past weekend's wet weather did little to ease the drought.  He says the only hope would be a "Miracle March" bringing lots of rainfall, but that is not likely.  "It's definitely very bleak.  I think the people who have been at the department (DWR) for many, many years would say they've never seen anything quite like it.  That is sobering news for Californians who have been struggling for three-plus years now with a drought, saving water as best they can."
And that struggle continues, as a new State Water Resources Control Board report shows water conservation slipped during January in California.  Urban water conservation use declined to just 9% compared to the same month in 2013.  That is a plunge from this past December when, for the first time, Californians met Governor Jerry Brown's call for a voluntary 20% reduction.