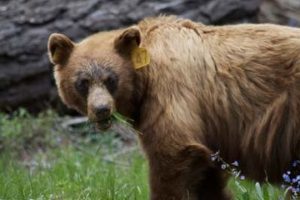 Bear tagged in Yosemite

View Photos
Yosemite, CA – Yosemite wants to learn what its bear population is doing in real time. For the first time in park history, a handful of bears have been tagged with GPS tracking devices to learn more about their habits outside of the park as well. Park officials report the study findings will be used to teach visitors about bear behavior.
"This project will expand the park's understanding of Yosemite's black bear population, and help to keep bears wild and visitors safe," said Yosemite National Park Superintendent Don Neubacher.
The collars are another tool being used by the bear management program to reduce bear and human incidents in the park, which have dropped by 95% since 1998. The Yosemite Conservancy donated nearly $70,000 to purchase the GPS collars.
"We're committed to helping the park protect Yosemite's wildlife so future generations can experience thrills like seeing a black bear ambling through a valley meadow," said Yosemite Conservancy President Mike Tollefson. "Those are memories that last a lifetime and encourage people to be stewards of the park."
The group has also donated over 2,000 bear-proof food storage lockers throughout the park to stop bears from relying on human food sources.