Money To Expand Lyons Reservoir?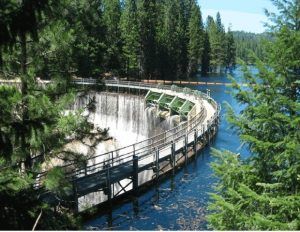 Lyons Dam Reservoir

View Photos
Sonora, CA — The Governor's Office will be holding meetings in the coming days to negotiate the details of a proposed water bond.
Senator Tom Berryhill, who represents the Mother Lode, says he is trying to persuade lawmakers to include language in the water bond that would allow money to go to storage projects, such as potentially raising Lyons Reservoir.
"Water rights in Tuolumne County, years ago, were basically given away," says Senator Berryhill. "So, if we could get some additional storage up at Lyons, and then get it into the Constitution that we actually have some water rights up there, it would be great for the region. We're working hard to try to make that happen."
Berryhill, who has been actively involved in the water talks, feels there is a sense of urgency to get a bond done this session, as the drought remains on the minds of many Californians. He believes there is a good chance that the final product will be similar to the 2009 water bond that was approved by the legislature, but was never placed before state voters for approval.