California Finances On Solid Ground?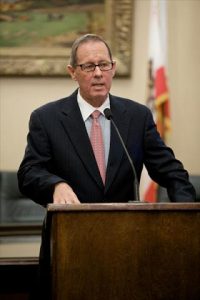 Senator Tom Berryhill

View Photos
Sacramento, CA — A new report from the state's Legislative Analyst's Office projects a nice budget surplus in the coming years.

The report from non-partisan Legislative Analyst Mac Taylor states, "The state's 2013-14 budget plan assumed a year-end reserve of $1.1 billion. Our revenue forecast now anticipates
$6.4 billion in higher revenues for 2012-13 and 2013-14 combined. These higher revenues are offset by $5 billion in increased expenditures, almost entirely due to greater required spending for schools and community colleges. Combined with a projected $3.2 billion operating surplus for the state in 2014-15, these factors lead us to project that, absent any changes to current laws and policies, the state would end 2014-15 with a $5.6 billion reserve."
Mother Lode District 14 Republican Senator Tom Berryhill has released a statement in response, stating, "We are in a better financial position partly because the Legislature and the Governor agreed to keep a lid on spending last year."
Berryhill adds that the increased revenue should be spent on improving schools, paying down the "wall of debt," and investing in infrastructure. It marks a turnaround in state revenues, as lawmakers have had to deal with budget deficits for several years.