Councilperson Williams Reacts To TV Show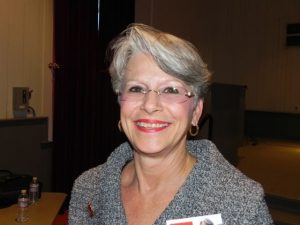 Connie Williams

View Photos
Sonora, CA — Sonora City Councilperson Connie Williams watched herself on national television on Tuesday night. Her family was featured on a show called "Homicide Hunter". The show was on the Discovery Investigation Channel, which is called Discovery ID for short.
Williams was Thursday's KVML "Newsmaker of the Day".
The name of the episode, which will be repeated through Sunday, is called "Run For Your Life" and features Williams being interviewed by retired Detective Joe Kenda. The show details the homicide of her father, while he was visiting Colorado Springs, Colorado on August 18, 1993.
Two juveniles were arrested and convicted of the crime.
Williams and members of her family gave permission for the show to broadcast her father's story, after receiving a random telephone call from the show producers earlier this year.
Detective Kenda, the host of the show, is a retired detective from the Colorado Springs area.
After watching the show on Tuesday, Williams had several thoughts.
"My expectation was, based on all of the questions that they had asked me, was that this was going to be more of a '60 Minutes' type of show, where they would really tell the whole story of what happened", said Williams. "What I was surprised about is how much TV entertainment it became."
Williams continued, "There was a lot that was true about the story, there were things that I wasn't told and there were things that simply weren't correct. They never even mentioned that this was gang-related. The point of the show was to show that my dad was an innocent victim and that he was in the wrong place at the wrong time. It showed the investigators and what their job was.
The focus of the tv show was about the night of the murder. I thought it would be more complete. I experienced it from beginning to end with the District Attorney, the prosecutors, the judge, all of the different sessions that we had to go through including going to the Colorado State Supreme Court. There is a whole lot more to the story than what was portrayed on the tv show.
I'm not going to say that I'm disappointed but I expected more of the story to be told. I would give permission again, because this is my dad's story and I think that we can all learn to never let your guard down. Always be aware of those around you. Even in our community, any of us can become a victim, anytime, anyplace. We need to be the eyes and ears of the police and CHP and report suspicious activity to the authorities."
The "Newsmaker of the Day" is heard every weekday morning on AM 1450 KVML at 6:45, 7:45 and 8:45am.