Update: California's First Coronavirus Death A Placer County Man, State Of Emergency Declared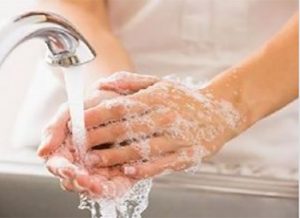 Washing hands to prevent the spread of viruses

View Photo
Update at 7:40 p.m.: After declaring a state of emergency, Governor Gavin Newsom also updated that the Princess Cruise ship the deceased Placer County man traveled on between San Francisco and Mexico then headed to Hawaii. He announced that it is now docked off the Bay Area coast and disclosed that more than 50 percent of the passengers are Californians. He also acknowledged, "That ship is now being delayed to provide ample opportunity for CDC [Centers for Disease Control and Prevention] partnership with the Coastguard and with state health officials to conduct test because we have a number of passengers and crew members that have developed symptoms."
With thousands of passengers on the ship, the Governor reveals that testing kits are being flown to the ship and then sent to an area lab where results can be determined within a few hours. Details on the emergency declaration and the Placer County man's death are below.
Update at 5:40 p.m.:  Wednesday afternoon Governor Gavin Newsom declared a State of Emergency following a rise in coronavirus cases, more than 53 in 12 counties,  and the state's first virus-related death involving a Placer County man, as detailed below.
Newsom remarks the proclamation will make additional resources available, formalize emergency actions already underway across multiple state agencies and departments, and help the state prepare for broader spread of COVID-19.
"The State of California is deploying every level of government to help identify cases and slow the spread of this coronavirus," said Governor Newsom. "This emergency proclamation will help the state further prepare our communities and our health care system in the event it spreads more broadly."
The governor adds that the emergency proclamation includes provisions allowing for health care workers to come from out of state to assist at health care facilities and give health care facilities the flexibility to plan and adapt to accommodate incoming patients. It also protects consumers against price gouging as Newsom notes, "It allows us on the competitive bidding frame to move forward with a kind of procurement that's necessary with a sense of urgency on medical supplies or other monitoring or suppression efforts that would allow us to move forward without any hurdles."
Original post at 2:05 p.m.: Sonora, CA — Health officials in Placer County say an elderly adult with underlying health conditions is the first confirmed death in California related to coronavirus.
Placer County Health Officer Dr. Aimee Sisson stated, "While we have expected more cases, this death is an unfortunate milestone in our efforts to fight this disease and one that we never wanted to see.
The case involves a person that tested positive on Tuesday who traveled on a Princess Cruise ship between San Francisco and Mexico. Governor Gavin Newsom expressed condolences to the family and issued this statement:
"This case demonstrates the need for continued local, state and federal partnership to identify and slow the spread of this virus. California is working around the clock to keep our communities safe, healthy and informed," relayed Newsom. He added, "The state is working with federal officials to follow up on contact tracing of individuals that may have been exposed to provide treatment and protect public health."
Placer County health officials detail that the preliminary contact investigation found that the patient had minimal community exposure between returning from the cruise and arriving at the hospital by ambulance on Feb. 27. Ten Kaiser Permanente healthcare workers and five emergency responders who were exposed prior to the patient being put in isolation, and are now in quarantine, relay health officials that advise none are exhibiting symptoms.
Additionally, other cruise passengers may have also been exposed. Placer County Public Health notes that it is working closely with Sacramento County Public Health and the Centers for Disease Control and Prevention to identify and contact other cruise passengers. This is the second confirmed case of the virus in the county. No details were released regarding the other patient.