Gastroenterologist Joins Adventist Health Sonora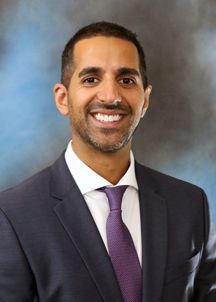 Sonora, CA – Adventist Health Sonora welcomes Neal Kaushal, M.D., MBA, a board-certified doctor of gastroenterology. He arrives after having completed his fellowship at the University of California, Los Angeles, where he won the Joel and Barbara Marcus Research Award and spearheaded multiple initiatives focused on providing better and more efficient endoscopic services. Prior to that, Dr. Kaushal completed his residency at the University of California, Irvine.
Dr. Kaushal earned his Bachelor of Science with honors in Molecular, Cell and Developmental Biology at the University of California, Los Angeles, before attending and completing the UC Irvine MD/MBA joint degree program. Now, after having spent several years in Southern California honing his skills as a gastroenterologist and pursuing and creating some of the more advanced technologies in the field, Dr. Kaushal has committed his career to making a deeper connection with his patients and the surrounding community. His inspiration stems from watching his father, also a gastroenterologist, as he built his practice in a suburb outside of Los Angeles. "I got to witness firsthand the value of my father's connection with his patients and the community. I watched them grow together. That drove me to want to preserve the human element of my practice. Because I don't just want to be a doctor, I want to be a part of a community and make a difference."
Part of that difference, Dr. Kaushal believes, begins with embracing his patients as a whole. "I think it's important to see everyone as a person and respect their beliefs and philosophies. That way I can listen clearly and find out what is really driving my patients." Additionally, Dr. Kaushal hopes that his continued interest in technology will be able to make a difference by "improving the access and delivery of care." He adds, "There are many ways to reach people. And they can be easy, efficient and user-friendly."
When not at work Dr. Kaushal and his girlfriend Stefani have a love for the outdoors, hiking, swimming and playing with their two dogs, Ruby and Rani, who are already enjoying their new home in the Sierras. Dr. Kaushal shares their appreciation for the change. "I feel blessed and lucky to be here. I fell in love with the area the first day of the interview process. And everyone here has just been amazing from the start."
To make an appointment with Dr. Kaushal please call 209-536-5760.