Swimming
Swimming is wonderful for getting in shape and staying in shape.
There are places to have fun or, like many of the master swimmers in the Mother Lode, you can compete in a local race or triathlon.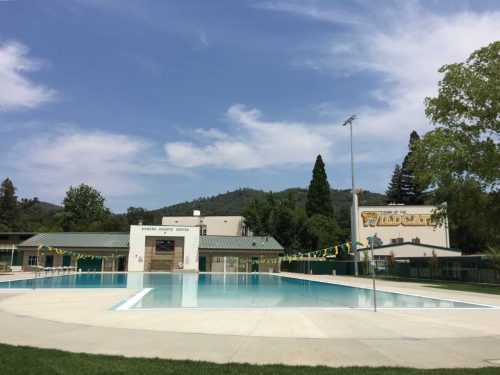 Summer Hours* (2022 info)
Recreation Swim
Twain Harte Recreational swimming Monday-Saturday 1 PM – 5 PM
Tuolumne Pool Recreational Swimming Monday to Saturday 1PM – 5 PM
Sonora Aquatics Center Recreational swimming
June 13-July 3: Sundays from 2:00 to 5:30 PM and Monday-Friday from 2:00 to 4:00 PM
July 9 to August 14: Monday-Friday 1:00 to 4:00 PM Sundays 1:00 to 5:30 PM
Family Night
Sonora Pool:
Sunday: 6 PM to 9 PM
Tuolumne Pool:
Friday: 7 PM to 10 PM
Saturday: 6 PM to 9 PM
Twain Harte:
Friday: 7:30 PM to 10 PM
Saturday: 6 PM to 9 PM
Fees:
Under 3 Free, Ages 3-17: $2.00 Ages 18-61: $3.00
Ages 62+: $2.00
Family Fee: $8 per family (up to 2 adults and 5 children) Non-Swimming Parent Free with paid child.
Public Swimming Pools
Columbia Pool
Back of Columbia Elementary, enter off Airport Road.
22540 Parrotts Ferry Road
Columbia, CA 95310
(209) 533-5663 Phone
Sonora Pool
Sonora High School Aquatics Center
430 N Washington Street
Sonora, CA 95370
(209) 533-5663 Phone
Tuolumne Pool
18640 Main Street
Tuolumne CA, 95379
(209) 928-3932 (pool)
(209) 533-5663 (office)
Twain Harte Pool
23075 Fuller Road
Twain Harte, CA 95383
(209) 533-5663 Phone
There are several reservoirs where you can enjoy swimming:
Yosemite Swimming Warnings
Always supervise children closely.
Choose swimming areas carefully and swim only during low water conditions.
Avoid areas of "whitewater" where streams flow over rocky obstructions.
Never swim or wade upstream from the brink of a waterfall, even if the water appears shallow and calm. Each year unsuspecting visitors are swept over waterfalls to their deaths when swimming in these areas.
River crossings
In summer, rivers and creeks swollen by runoff from snow-melt are dangerous. Powerful current, icy water, and river obstructions can trap or kill the unwary.
Stay away from river and creek banks during high water conditions and avoid rock hopping. Stream polished rocks along the water's edge may be slippery when wet or dry.
If you choose to cross a stream without a bridge, avoid deep and/or swift water. If crossing on a natural bridge of rocks or logs, consider where you will land if you fall. Never cross above rapids or falls. To prevent being pulled under by its weight, unbuckle your pack's waist strap so you can shed it if you fall in. Do not tie yourself into safety ropes–they can drown you.
The entire length of the Merced River in Yosemite Valley is closed to all floatation devices whenever the river gauge at Sentinel Bridge reads 6.5 feet or higher or when the sum of the air and water and temperature is less than 100°F.
If you want to stay in the Mother Lode take a look our list of places to stay.
Planning a wedding, conference or other event? Take a look our list of places to host your event.
Tell us about your experience at this place! Send an email to the Destination Guide Administrator. If you would like to advertise with us, please e-mail our sales department or give us a call at (209) 533-1450. To see a gallery of our current advertisers click here.