New Melones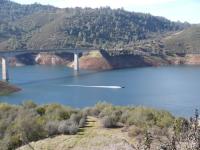 New Melones Lake attracts visitors from all over for its beautiful scenery, water sports and wildlife. The reservoir is set in the foothills of the Sierra Mother Lode along Hwy 49 between Angels Camp and Sonora. The Reservoir was constructed in 1983. It has 12,500 surface acres of water and 100 miles of shoreline when full. The elevation is approximately 1,100 feet above sea level. The Peoria Wildlife Management Area (PWMA) covers approximately 2,500 acres and is located on the southwest side of New Melones Lake. Managed by the Bureau of Reclamation, the area's map is here. Water skiers love this lake because the surface is like glass. Jet skiers can explore the many coves and creek channels. There are plenty of places for sports and even more places for fishing. New Melones is rarely crowded but plan to arrive early on summer weekends, especially holiday weekends.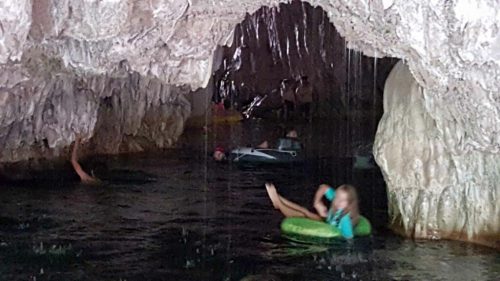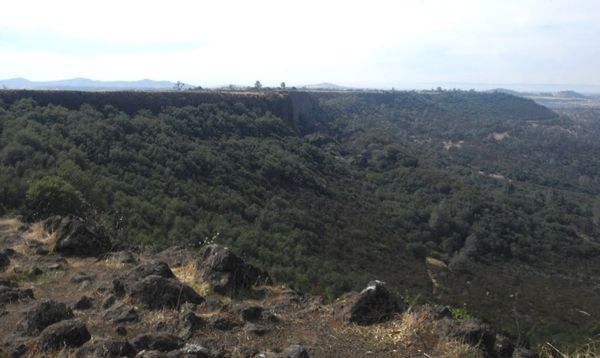 Several trails in the area are listed below the most picturesque are Table Mountain Trail and Natural Bridges Trail. Table Mountain is a stunning rock formation on the South end of the lake.
Natural Bridges is a wonderful hidden swimming hole. Natural Bridges is managed by the Bureau of Land Management and is now charging a fee to park at the trailhead along Parrotts Ferry Road. The area features a 0.7 mile trail leading to a unique series of limestone caverns carved out by the Coyote Creek, which feeds into New Melones Reservoir. The area also includes picnic tables along the trail. The cost to purchase a parking pass is $8. Passes can be purchased at the New Melones Lake Visitor Center.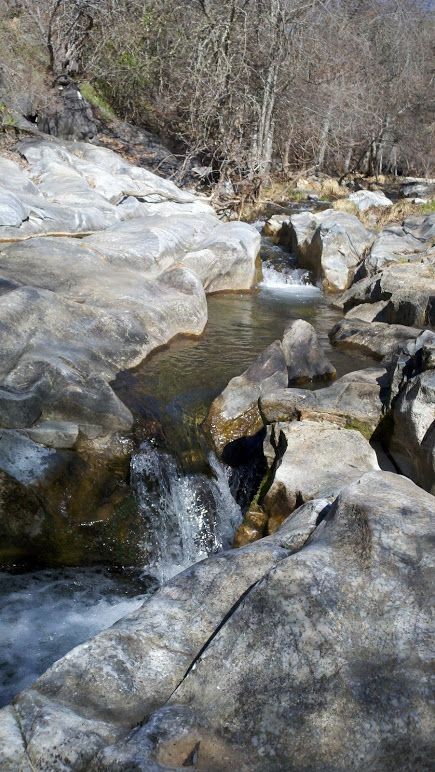 There is likely some gold left in the New Melones area. People still pan for it in the many streams and creeks that flow into the lake. All that is needed is an inexpensive gold pan and a little patience. For more about gold finds in the area see the rock hounding page.
For water levels visit California Department of Water Resources
New Melones Lake Visitors Center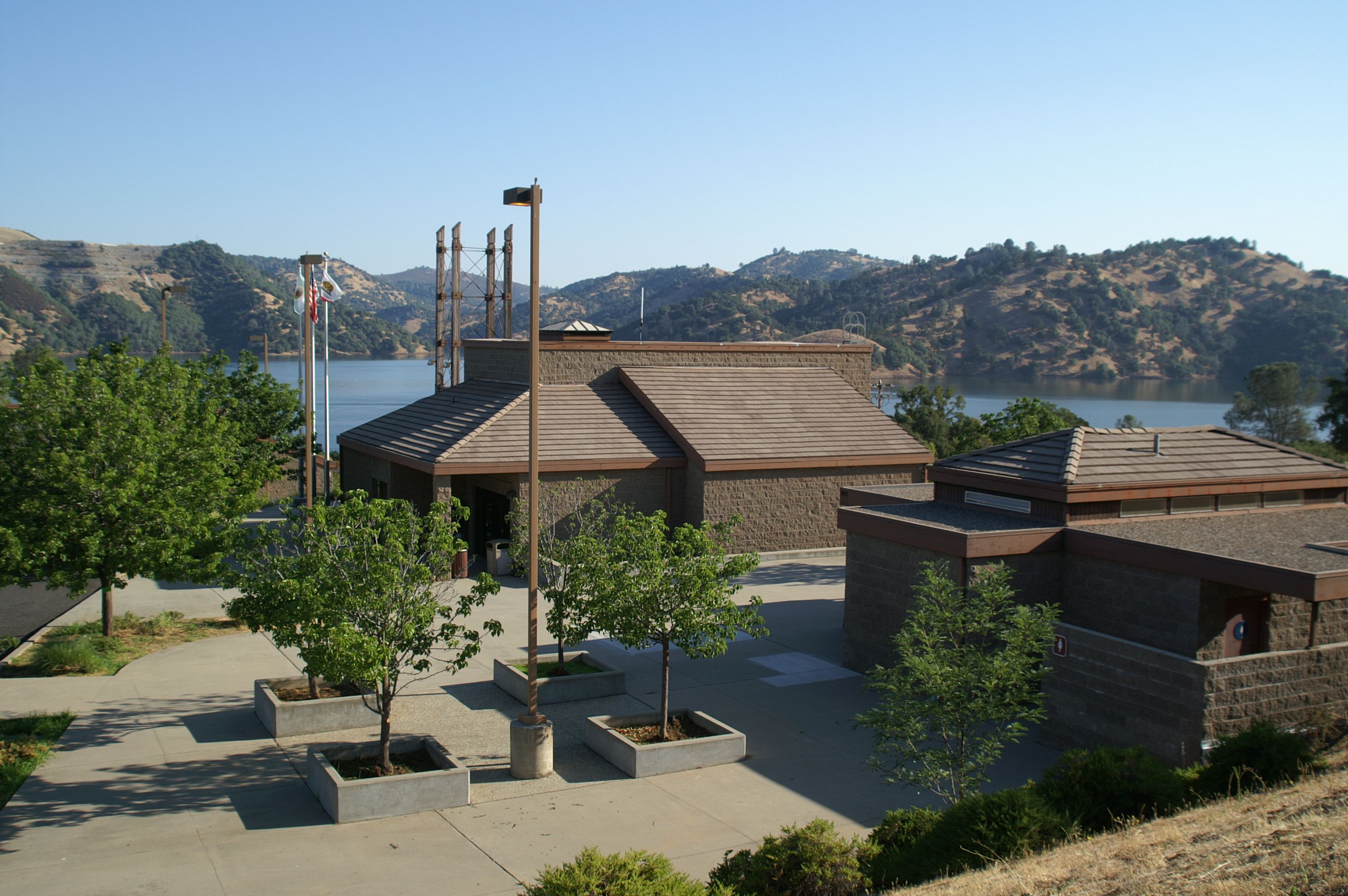 Hours: Open year round Wednesday through Sunday, 10:00 a.m. to 4:00 p.m., and closed Mondays and Tuesdays
6850 Stud Horse Flat Road
Sonora, CA 95370
209-536-9543 Website New Melones Lake Visitor Center and Museum were completed as a part of the New Melones project in 1992. The modern displays and exhibits are about the area's geologic past, Mi-Wok Indian and early human history, the California Gold Rush, mining techniques, ranching, the town of Robinson Ferry, natural history, and the New Melones project itself. Highly recommended are the guided history and nature walks that rangers conduct.
There is more information about New Melones Visitors Center here.

In the Tuttletown Recreation Area you will find six lovely lakeside campgrounds, Acorn, Fiddleneck, Oak Knoll, Manzanita, Chamise and Lupine. Two campgrounds, Ironhorse and Big Oak, are located in the Glory Hole Recreation Area. Campsites offer barbecues, water, campfire rings, shower facilities, fish cleaning station, telephones, watertaps, and a free launch ramp.
Two vehicles and 8 people allowed for each standard site. 1 vehicle and 4 people allowed for each walk-to site. There are no RV hookups at any of these campgrounds. In the Chamise campground trailers, boats, RV's, and motor homes are not allowed due to limited parking and short turnarounds.
The entrance gate closes at night, be sure you call to find out when the gate will be closing, if you plan on arriving late. For more information call (209) 536-9094
For New Melones camping reservations, contact: (877) 444-6777 or recreation.gov Look up the campground name instead of New Melones Lake.

If you're looking for a great fishing experience, New Melones is the place for you. Fishing at New Melones is open year round and the lake is open to boaters all night too. There are Numerous Fishing Tournaments and Derbies with catches of ten pound Largemouth Bass and many Rainbow & Brown Trout exceeding 10 lbs.
A small fee is required for boat launching. The four boat ramps are Tuttletown, Glory Hole, Angels Cove and Old Highway 49 at the Visitors' Center.Shore anglers toss out nightcrawlers and Powerbait, trollers use Rapalas in shad colors, a Spook can catch big Bass but the Bass can be small and are not planted. Kokanee Salmon were introduced into the lake in spring of 1997, and are thriving. Kokanee can be caught by trollers during the Summer months. Summer and fall also bring catfish, Perch and crappie.
Trout are regularly planted by Department of Fish and Game. Remember most local rivers and streams are closed to fishing in November.

Glory Hole has many recreation trails, a little less than 15 miles altogether. Buck Brush Loop and Heron point are easy trails, Tower Climb is as steep as it sounds. Natural Bridges can be accessed from Parrotts Ferry road. It is open to foot traffic only and is a somewhat steep trail down to Coyote Creek. In the summer bring your inner tube to float down the river and under the cave-like natural bridge.
Other trails in the area: Carson Creek, Gold Rush, Frontier, Peoria Wildlife Mountain and Ridge Trail (Horses allowed), and Table Mountain.
A beautiful, challenging course on hilly oak savanna terrain near New Melones Lake. Precise shots through the trees and up and down rolling hills. Holes 13 and 14 are open. As of February 2021 no tees have been completed – tee areas are marked with stakes and flagging.

Many of the trails are excellent single track biking trails ranging from easy to difficult. The trails are very narrow, no wider than from pedal to pedal, and along some very steep cliffs and hillsides. Four different loops are connected by the Frontier Trail. Except for the Tower Climb, which contains eight uphill switchbacks, the New Melones area is a great place to ride year round. Beware that it does get hot in the summer. Try the Carson Creek trail (plus short peninsula loop), and Angels Creek Trail.
Other trails: Heron Point, Norwegian Gulch, Peoria Wildlife Area, and Table Mountain
If you want to stay in the Mother Lode take a look our list of places to stay.
Planning a wedding, conference or other event? Take a look our list of places to host your event.
Tell us about your experience at this place! Contact Us