Lake Don Pedro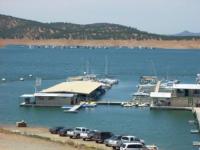 Don Pedro is the perfect lake for water skiing, houseboats, and more with 160 miles of shoreline and nearly 13,000 acre-feet of surface area (at maximum lake level), visitors can enjoy boating, fishing, water sports, swimming, and camping. One of the highlights of the year is the annual fireworks show over the lake celebrating the Fourth of July but in years of drought (including 2022), the show is canceled. If you have any questions, please call the Visitor Center at (209) 852-2396.
The Don Pedro Recreation Agency (DPRA) manages the lake and opened a new dog-friendly hiking trail in June 2022. The trail is a four-mile out-and-back trail that will reward you with great views of the Don Pedro Reservoir. Be sure to bring plenty of water and sunscreen!
When the water level gets very low Don Pedro reveals the Eagle-Shawmut Mine, a gold, copper and silver mine. The mine opened in 1850 and operated for almost 100 years until it closed in 1947. The Don Pedro Dam was completed in 1971 and most years the water fully submerges the mine.
Rent a houseboat for the perfect party and enjoy your very own floating oasis. Don Pedro Recreation Agency permits 257 privately owned houseboats to be kept on Don Pedro Lake. (There are no plans to expand, purchase or rent an existing houseboat to experience Don Pedro on the lake.)

Facilities at Flemming Meadows, Moccasin Point, and Blue Oaks include water, sewer and electricity hookups, paved parking pad, table, and barbeque grill at each site, plus access to hot showers in developed restrooms.Tent Sites are located in all three developed campgrounds. Facilities include paved parking pad, table, food locker, and barbeque grill at each site, plus access to hot showers and water faucets in developed restrooms.
For more information, you can call the Don Pedro Recreation Agency at(209) 852-2396

Lake Don Pedro well known for as a Big Fish Lake. Don Pedro holds a great population of Florida Strain Largemouth Bass, some in the double digits. The lake record is 18lbs 9 ounces, and there are bigger fish to be caught! Trout anglers can catch their limits trolling in the Middle Bay and Jenkins Hill areas. King Salmon up to 5 lbs have been caught and in the summer and many fighting Kokanee have been caught, and lost. There is a large population of Crappie in Lake Don Pedro, and many catfish over 20 lbs.
There are three launch ramps at Lake Don Pedro, Blue Oaks Recreation Area, Fleming Meadows Recreation Area, and the Moccasin Point Recreation Area. For more information about lake Don Pedro, you can call the Don Pedro Recreation Agency at (209) 852-2396.
Lake Don Pedro Fish: Rainbow Trout, Brown Trout, Largemouth Bass, Smallmouth Bass, Spotted Bass, Catfish, Crappie, Bluegill
[mapsmarker marker="726″]
If you want to stay in the Mother Lode take a look our list of places to stay.
Planning a wedding, conference or other event? Take a look our list of places to host your event.
Tell us about your experience at this place! Contact Us