Star Gazing
What's big and dark and very sparkly at night? The Mother Lode sky! Along the highways there are a number of lookouts perfect for stargazing.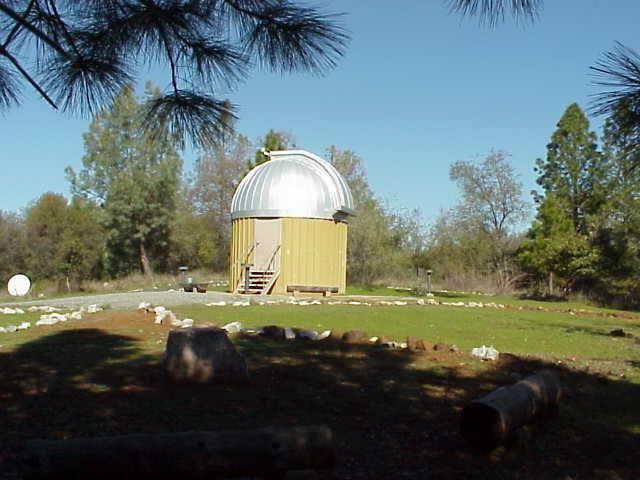 Columbia College
The Columbia College Observatory is usually only for college classes. It has several telescopes available for students to observe planets, as well as deep sky objects and galaxies.
Yosemite
Yosemite National Park, miles from the nearest city lights, has a very dark night sky that makes it a great place to look at the stars. Bring along a star chart and look for constellations, or look through binoculars at some of our planetary neighbors.
For a speechless view of the stars, try Sentinel Dome at night. It's the best 360 degree; unobstructed view of the heavens you can see, especially during the meteor showers in August. You'll also have excellent naked-eye views of the Milky Way galaxy. But aided by a telescope at Glacier Point, you'll be able to view many other astronomical objects such as star clusters, gaseous nebulae and planets.
In June, July, and August, amateur astronomers often set up telescopes at Glacier Point on Saturdays, and astronomy walks or talks may also be offered elsewhere in the park. Once the road is open to Glacier Point, usually around July 1, rangers provide a star and constellation sunset talk at the point itself. But on these selected weekends, the rangers will be joined by between 10 and 30 amateur astronomers with their own telescopes which are set up in or around the ampitheatre at Glacier Point.
If you plan a trip to Yosemite during the summer, why not pick one of these weekends and come up with your red flashlight to Glacier Point at sunset. The viewing area at Glacier Point is mostly flat and can accommodate several hundred persons. It may be best to avoid full moon weekends, as many objects in the night sky will be washed-out.
Star parties are offered as a public service by the national park and the astronomy clubs, and anyone is welcome to attend. Bring your own telescope or binoculars and jacket (it can get quite cool even during summer) and join the fun. Check with the park service regarding equipment and for the current schedule.
Yosemite Astronomy Club Participants
Volcano
"Here in Volcano in 1860, miner and amateur astronomer George Madeira built California's first astronomical observatory of record and operated it for two years. Using a three-inch refractor telescope he studied the sun and moon, stars and planets, and other glories of the heavens, including the Great Comet of 1861." -California Registered Historical Landmark No 715
The Plaque was placed by the State Department of Parks and Recreation in cooperation with the Astronomical Societies of Stockton and Sacramento. Plaque placed first in 1968. Revised and relocated in 2004.
If you want to stay in the Mother Lode take a look our list of places to stay.
Planning a wedding, conference or other event? Take a look our list of places to host your event.
Tell us about your experience at this place! Contact Us