Off Highway Vehicles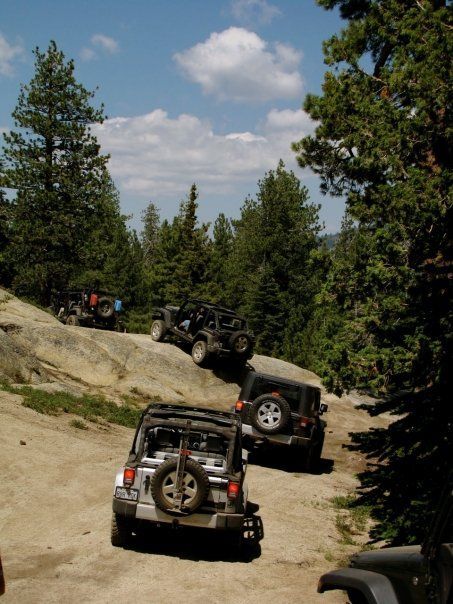 A popular activity in the Mother Lode Sierra Nevada is OHV exploring of forested and rocky terrain. The forest service's definition of off-highway vehicles include: ATV's, Quads or 4 wheelers, rock crawling vehicles and snowmobiles. The trails offer a fantastic way to enjoy the Sierra Nevada Mountains.
Caltrans usually opens mountain passes ahead of Memorial Day Weekend. Many areas of the Calaveras Ranger District are open and accessible for snow vehicles during the winter. The District offers 35 miles of groomed OSV routes, as well as many more miles of un-groomed trails and open cross-country riding areas.
Stanislaus National Forest over-snow vehicles can use 119,104 designated cross-country acres with 24.7 miles of trails available or grooming and 58.4 miles of un-groomed trails. Visitors and OSV-users can obtain an OSVUM at Stanislaus National Forest offices or online here. Quick tips on responsible ATV riding using the #TREADLightly principles offered by forest officials are our news story here.
Snowmobile and other Over Snow Vehicles (OSVs) Routes
Bear Valley Trail
1.5 miles of groomed intermediate trail from Lake Alpine SNO-PARK to Bear Valley Village.
Highway 4
During the winter months, Highway 4 (east of closure gate) is groomed for snowmobile use from the SNOPARK just east of Bear Valley to the top of Ebbetts Pass (approximately 15 miles) and to Highland Lakes. This trail has numerous segments, appropriate for different skill levels from novice to expert. As the trail climbs towards the pass, the views are spectacular. Opportunities exist for expert riders to continue riding on the un-groomed portion of the Highway on the east side of Ebbetts Pass. (Note: The groomed portion of Highway 4 is a multi-user trail, and is heavily used by nordic skiers as well as snowmobilers, particularly in the Lake Alpine region.)
Spicer Reservoir Area - Calaveras Ranger District
This area contains approximately 20 miles of groomed trail appropriate for novice to intermediate riders. The trail begins 1/4 mile from Highway 4 at the Spicer Reservoir Road parking area. The trail descends 2.5 miles gradually down and across a bridge at the Stanislaus River, then ascends quickly out of the canyon. From there the trail is a gentle, level ride to a 3-way intersection, 8 miles from the parking lot. Riders may continue on to Union and Utica Reservoirs, Summit and Elephant Rock Lakes, or the Spicer Reservoir Power House. Very experienced riders may continue on the un-groomed route along Slick Rock Road to access Lake Alpine. OHV (Red Sticker) Riding Season is year round ref map #58*
Off Highway (Summer) Vehicle Routes
Slick Rock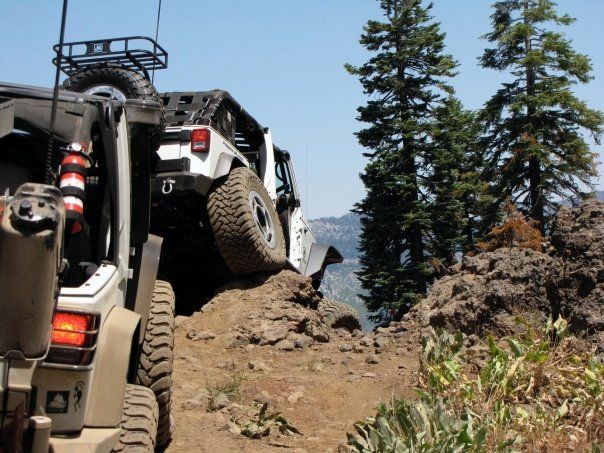 This 3 mile challenging trail can take as little as two hours and starts off from the Campground below Lake Alpine above Bear Valley. Stay to the right as you approach the lake about three quarters of a mile from HWY 4. Follow Silver Creek which flows over solid granite in some areas, the trail has two major water crossings one about 10″ deep and the other over a one lane bridge over Duck Creek. Slick Rock gets its name from a rugged section of slippery granite that you have to negotiate another fun section the requires some skill is the Stairs. Slick Rock is a labeled road because it was paved 50 years ago when the dams in the area were built. Most of the pavement is gone. More details are here.
Corral Hollow – Is a 13 mile trail near Bear Valley, a detailed map and more is here.
Black Springs Road - Calaveras Ranger District
Road (7N23) is not specifically groomed or marked. You will find over 100 miles of connecting roads and trails, there is enjoyable riding for all levels and types of OHV users, including 4WD, ATVs and motorcycles.
The trail network is generally accessible to OHVs from early summer to fall; during the winter months, portions of the network are available for use by Over-Snow Vehicles. A map showing recommended OHV routes is available upon request from the District Office.
Crandall Peak - Mi-Wuk Ranger District
A popular motorcycle riding area with 40 miles of signed trails and 140 miles of road open to OHV use extending from north of Crandall Peak to the Deer Creek area northwest of Highway 108. The riding area ranges in elevation of 3,500 feet at Deer Creek to 5,500 feet at Crandall Peak. Four-wheel drive and ATV trails are limited, but use is allowed on the 140 miles of road. There is camping at Crandall Peak near Spring Gap off Forest Roads 4N01 and 4N88, and dispersed camping and vehicle parking/off loading with restrooms, but no other services or potable water is available. Trails in the Crandall Peak area are usually closed in the winter due to snow blocking access. OHV (Red Sticker) Riding Season is from the beginning of October to the end of May ref. map #62*
Hull Creek - Mi Wuk Ranger District
The Hull and Trout Creek area southeast of Long Barn is a popular area for ATV and four-wheel drive users to operate with 20 miles of signed trails and 100 miles of roads open to OHV use. Unlike the Crandall and Deer Creek area, few single-track motorcycle trails currently exist. The riding area ranges in elevation of 4500 feet near Long Barn to 7600 feet at Bourland Mountain. The riding area is closed during the winter due to snow blocking access. Hull Creek campground is nearby with 19 units, restrooms, and drinking water. Adjacent areas offer no-service, dispersed camping opportunities. OHV (Red Sticker) Riding Season is from the beginning of October to the end of May ref. map # 64*
Hunter Creek - Mi-Wuk Ranger District
The Hunter Creek area east of Tuolumne City on the south end of the district offers 100 miles of roads open to OHV use. Future trail opportunities may be developed. The riding area ranges in elevation of 2,500 feet at Hunter Creek to 5,800 feet at Duckwall Mountain. The riding area is open all year, but access on some roads may be blocked due to snow in winter months. River Ranch Campground off Cottonwood Road offers full service camping facilities near the riding area. The campground is open March 1- November 30. OHV use is not permitted within the campground or on Cottonwood Road. Adjacent areas offer no-service, dispersed camping opportunities. OHV (Red Sticker) Riding Season is from the beginning of October to the end of May ref. map # 63*
Niagara Ridge Area - Summit Ranger District
Trail open to 4×4 capable vehicle and skilled drivers. Closed during winter when the Highway 108 Sno-Park is closed and/or when Eagle Creek Road is closed into Niagara Rim Trail. Not accessible by wheeled vehicles. OHV (Red Sticker) Riding Season is year round ref map #60*
Campfire Permits are required for Dispersed Camping.
Deer Valley Trail - El Dorado National Forest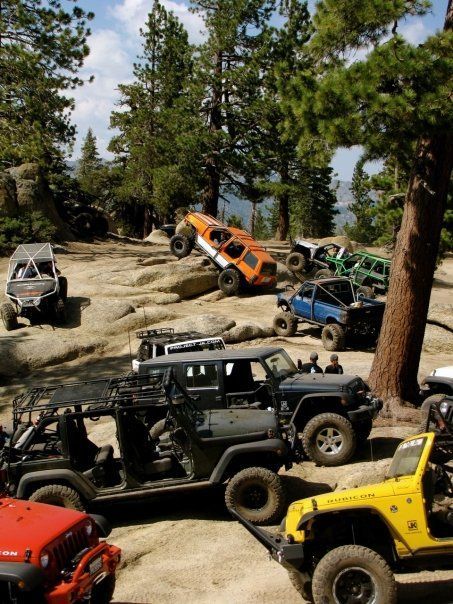 One of 42 trails that were closed due to a court order on April 4, 2012. It is rumored the El Dorado National Forest Supervisor may sign a record of decision in May for the trail to reopen in July if conditions allow while trail improvements and some rerouting take place.
The route is towards Ebbett's Pass at Hermit Valley on Highway 4. The first 100 yards are challenging, after that moderate wheeling and beautiful scenery. The trail goes over the cherry stem through the Mokelumne Wilderness and ends up at Blue Lakes, a scenic lake wonderland owned by PG&E. Fishing is great here, and camping is abundant. A high-speed dirt road gets you out of the Blue Lakes area to Highway 88 in Hope Valley. From there you can follow Highway 88 west back to Jackson.
More information on the Deer Valley Trail: californiajeeper.com.
*provided by the California Air Resources Board (CARB) at
(800) 242-4450
If you want to stay in the Mother Lode take a look our list of places to stay.
Planning a wedding, conference or other event? Take a look our list of places to host your event.
Tell us about your experience at this place! Contact Us