City Government
Mayor: Mark Plummer Mayor Pro-Tem: Ann Segerstrom
Council Members: Matt Hawkins, Suzanne Cruz, Andy Merrill
City of Sonora
94 N. Washington Street Sonora, CA 95370
Mayor: Alvin Broglio, Vice Mayor: Jennifer Davis-Herdon,
Council Members: Caroline Schirato, Gretel Tiscornia, Isabel Moncada
City of Angels
PO Box 667 Angels Camp, CA 95222
(209) 736-2181
Fax: (209) 736-0709
Angels Camp Sewage Treatment
P.O. Box 667 Angels Camp, CA 95222-0667
(209) 736-2412
Angels Camp Utility Department
P.O. Box 667 Angels Camp, CA 95222-0667
(209) 736-0139  Fax: (209) 736-0709
Angels Camp Water Treatment
1131 Murphys Grade Road Angels Camp, CA 95222-9616
(209) 736-0790
Jamestown Sanitary District
18351 Main Street – P.O. Box 247 Jamestown, California 95327
(209) 984-5177
Sonora City Clerk
94 North Washington Street Sonora, CA 95370-4708
(209) 532-4541  Fax: (209) 532-2738
Website
Tuolumne Utility District
18885 Nugget Blvd Sonora, CA 95370
(209) 532-5536   Fax: (209) 532-2738
Website
Tuolumne Board of Supervisors
District 1: David Goldemberg, District 2: Ryan Campbell, District 3: Daniel Anaiah Kirk, District 4: Kathleen Haff, District 5: Jaron Brandon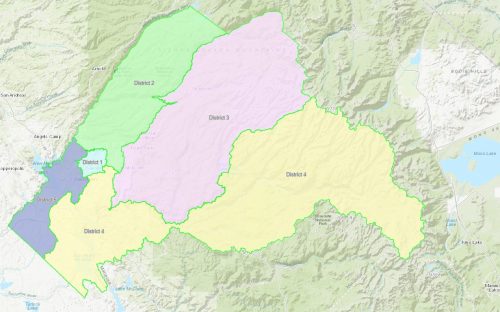 District 1 includes: City of Sonora, the only incorporated city in Tuolumne County, most of Shaw's Flat, Apple Valley, areas south of Big Hill Road and Phoenix Lake. Most of the commercial retailers are located in District 1.
District 2 includes: Soulsbyville, Willow Springs, Crystal Falls, Phoenix Lake Country Club Estates; Brentwood Park, areas North of Big Hill Road, and Cedar Ridge. Features in District Two include a significant portion of the Stanislaus National Forest, the Carson Iceberg Wilderness and a portion of Big Trees State Park.
District 3 includes: Tuolumne, Ponderosa Hills, Twain Harte, Mi Wuk and all other communities to the east of State Highway 108. Features in District 3 include Dodge Ridge Ski Resort, Pinecrest Lake, Cherry Lake, Kennedy Meadows, Lyons Lake, Beardsley Lake and the Emigrant Wilderness area.
District 4 includes: Groveland, Pine Mountain Lake, Big Oak Flat, Moccasin, Chinese Camp, Lime Kiln Road and Old Wards Ferry Road areas, Lake Don Pedro, Ranchos Poquitos, Standard, East Sonora, Hess Road and Peaceful Valley areas, Curtis Creek Ranch, Lambert Lake Estates and Whispering Woods. The area includes Standard Park, Sierra Railroad, Sierra Pacific Industries, Sierra Repertory Theatre, Sierra Pacific Industrial Park, Junction Shopping Center, Lake Don Pedro, Pine Mountain Lake Golf Course, Lake, & Airport, 58% of Yosemite National Park and Hetch Hetchy Reservoir.
District 5 includes: West of the city limits of Sonora and southern portions of the county. This includes Jamestown, Columbia, Stent, Tuttletown, Rawhide, Black Jack Bluffs, Jackass Hills featuring areas such as Railtown State Park, Columbia Historic State Park, Columbia Airport, Lake Tulloch, New Melones Reservoir and much of Columbia College.
Tuolumne County Administration Center
2 S. Green St.
Sonora, CA 95370
Website
Tuolumne Park & Recreation
P.O. Box 730 Tuolumne, CA 95379-0730
(209) 928-1214