Stanislaus National Forest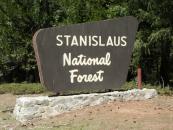 Almost 900,000 acres full of 78 lakes, over 800 miles of rivers thousands of miles of trails Stanislaus National Forest is North and West of Yosemite NP. The entire area has little to no cellular coverage and a phone will be of no use in an emergency situation. A blog about emergency devices from Search and Rescue is here. Camping is one of the most popular recreation activities in the Stanislaus National Forest. The ideal camping time is May to October, prior to winter storm activity. Most campgrounds fill quickly during holiday weekends, and visitors can prepare to camp in undeveloped areas. Forest employees will assist in choosing an appropriate location. Contact the individual Ranger District nearest your destination to verify space availability in your selected campground. For a list of our favorite campgrounds visit Camping in our recreation guide here.
Activities in Emigrant Wilderness include hiking, swimming, fishing and hunting. Rainbow, Brook and German Brown trout are found in almost all lakes and streams in the area. In addition, three major deer herds – Jawbone, Yosemite and Stanislaus herds – live in Emigrant Basin. For more about hunting in the Motherlode visit the hunting page in the recreation guide.Some campsites can be reserved, but the majority of Forest campgrounds are operated on a first-come, first-served system. Pick your own spot, or dispersed area camping, is an option available on non wilderness designated land.
For the full list of camp grounds visit the Stanislaus National Forest Website.
Campfire permits are not required within developed campgrounds and picnic areas, however, please limit your campfire to camp stoves provided. Campfire permits are required when camping in undeveloped sites and when using a campfire or camp stove outside a recreational vehicle. Permits are free and must be obtained in person at any Stanislaus National Forest Office.
Pets are welcome, although local county ordinances require pets to be leashed. Dogs are required to be under voice control within the Emigrant Wilderness.

If river fishing is your way to relax, these rivers should be your destination. Patient anglers who get up with in the early hours with the sun will be sure to catch their limit of trout and take in appealing vistas.
Ranger Districts in the Mother Lode
Stanislaus National Forest Supervisor's Office

19777 Greenley Road
Sonora, CA 95370
Hours All YearM-F: 8:00am to 4:30pm
Phone: (209) 532-3671TDD: (209) 533-0765
Calaveras Ranger District

5519 Highway 4,
P.O. Box 500
Hathaway Pines, CA 95233
Hours All Year (closed holidays) M-F: 8:00am to 4:00pm
Phone: (209) 795-1381TDD: (209) 795-2854
Mi-Wok Ranger District

24695 Highway 108
P.O. Box 100
Mi-Wuk-Village, CA 95346
Hours All Year (closed holidays) M-F: 8:30am to 4:30pm
Phone: (209) 586-3234TDD: (209) 586-0262
Groveland Ranger District

24545 Highway 120
Groveland, CA 95321
Summer Hours (May – Sep)M-Sat: 8:00am to 4:30pm (holidays included)

Winter Hours (October – April) M-F: 8:00am to 4:30pm Sat: 8:00am – 3:30pm (closed holidays)

Phone: (209) 962-7825TDD: (209) 962-6406
Summit Ranger District
#1 Pinecrest Lake Road
Pinecrest, CA 95364
Hours All Year (closed holidays) M-F: 8:00am to 4:00 pm
Phone: (209) 965-3434TDD: (209) 965-0488
If you want to stay in the Mother Lode take a look our list of places to stay.
Planning a wedding, conference or other event? Take a look our list of places to host your event.
Tell us about your experience at this place! Contact Us