8 Points To Consider Before Buying Rural Property
1. Analyze Your Location
Not surprisingly, location is an incredibly important aspect to consider before purchasing any piece of land. You'll want to make sure that you're in the right area, because settling in the wrong place and lead to all sorts of hassle and headache which is best avoided if at all possible. When looking at rural property, you'll want to look at what the distance is to other places you'll regularly visit, as a long commute can take a lot of time and gas. Researching weather from past years can help you know whether or not you're likely to see flooding, thunderstorms, or blizzards in the future.
2. Consider Acreage Size and Natural Resources
The amount of land and natural resources you'll need are dependent on what your goals are, so analyzing your ambitions is an important step to purchasing rural property. Will you need a dozen acres, or several hundred? Is a source of water vital for your success, or just aesthetically pleasing? Make sure you know exactly what you'll require, as well as what really isn't necessary. Knowing what you want is an important part to being able to make a wise purchase that you won't regret later on.
3. Double-Check the Property Boundaries
Making sure you know what you're buying is important with any real estate transaction, but it's especially helpful when you're purchasing a rural area which may or may not have any boundary markings or landmarks. Going to a county assessor's office and finding out how many acres are being taxed on the property is one way to quickly double-check the property size. If the number they give you is different than what you're hearing from the seller, you may want to do some further investigating.
4. Connect to Your Neighborhood
Unless you're planning to live as a hermit, connecting to your local community will be an important aspect of rural living. Getting to know your potential neighbors is a great way to learn about the community you're looking to join. Find out who your local mechanic will be, as well as where local farm suppliers are located. Locating your County USDA Farm Service Agency (FSA) Office is also important, as they can help you out a lot.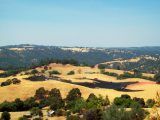 5. Zoning and Taxes
Take a look at what local development has recently taken place, and consider how this will affect property values and taxes. Does it seem likely that the area will have significant growth in coming years? You won't want to be rudely surprised to find that your property taxes suddenly spike due to local growth. Considering the current zoning laws is a wise idea, and you should also see if it's likely that they will change in coming years.
6. Cost of Living
The up-front buying cost isn't the only expense you'll incure when purchasing a property. Sometimes, you'll be required to pay for installing electricity, water, and other amenities. You'll need to pay for insurance, as well as normal utility bills and such. The cost of adding sheds, a driveway, fences, and farm equipment to the property should also be taken into consideration, as it may take a large chunk of cash to make your property operational.
7. Research Available Services
In suburbs and urban areas, certain services are taken somewhat for granted. In more rural areas, however, these services may be limited or totally non-existent. Even if you can live without these things, knowing beforehand that they won't be available can help you avoid some nasty surprises. It's likely that cell phone service will be difficult to obtain so alternative communication networks will most likely be limited to satellite internet or VSAT services. Finding a trash service might be difficult as well. Your distance to the local schools and fire department may also be further than you'd like.
8. Know Exactly What You're Buying
In addition to investigating property boundaries and size, you'll also want to have a clear agreement with the seller about what aspects will be included in your purchase. Don't assume that he's planning to sell portable sheds, fences, or farm equipment with the land itself. Anything that can be moved should be clearly discussed and a plan agreed on, and this needs to be stated in the contract. This will help both of you avoid any conflict or disappointment later on.