Emergency Nurses Offer Travel Tips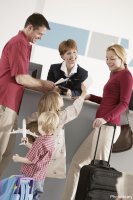 (ARA) – Americans make about nine long-distance trips (more than 500 miles) per year, according to the U.S. Department of Transportation's National Household Travel Survey. Because of this it's necessary for travelers to take special precautions when traveling to ensure a healthy, safe vacation. The Emergency Nurses Association (ENA) offers tips to get you safely to and from your travel destination.
'When traveling people are often preoccupied and forget about basic travel safety and necessary precautions,' says ENA President Donna L. Mason, RN, MS, CEN. 'By taking a few extra steps, you can help ensure a happy and safe vacation for you and your family.'
Travel Tips
In case of emergency, bring your doctors' contact information, your blood type and health history.
If you regularly take prescription medications, remember to bring a copy of the prescription along with enough medications to last several days longer than your scheduled trip. Unexpected travel delays are a common occurrence, especially during the winter months!
Be sure to store medications in their original containers that are child-proof and out of the reach of children. Children are often attracted to the brightly colored pills and might mistake them for candy.
Make sure you understand the rules for carrying medications onto planes. Take time to call or visit the airline's Web site to learn about their policies and ensure medication is in the proper containers to pass through security checkpoints.
Talk to your doctor about your risk of Deep Vein Thrombosis (DVT), which occurs when a blood clot forms in a vein deep inside a muscle in your body. Long periods of sitting can cause DVT. During long flights, it's important to exercise your leg muscles by periodically moving through the cabin.
Be sure to ask about escape routes when staying at hotels and relatives' houses as candles, fireplaces, and other decorations can cause major fire hazards. Take the time to identify stairwells, exits and other safety equipment such as fire escape ladders.
ENA reminds everyone that many of the traumas presented in the emergency department are preventable, so take the necessary precautions to reduce the risk of injury. For additional information and safety tips, visit the ENA Injury Prevention Institute/EN CARE Web site at www.ena.org/ipinstitute. Information about ENA is available at www.ena.org.
Courtesy of ARAcontent
---