Trained Professionals and Online Tools Can Help Seniors Find a New Home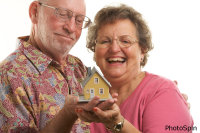 (ARA) – Helping a parent move to senior housing can seem more intimidating than orchestrating a rocket launch.
The death of a spouse"," declining health or safety concerns can trigger the need to move. The first phase comes with the realization that what has been home is no longer suitable.
Emotional ties to a place are hard to overcome. Finding a new home that is appealing and appropriate is no easy task"," and neither is culling through a lifetime's accumulation of "stuff."
It may not take a rocket scientist to work through this multi-phase life change. But finding a professional who knows the ropes can make it easier for the more than 29 percent of home sellers age 65 and older who move into an active-adult community or senior-related housing each year.
That professional may be a Seniors Real Estate Specialist (SRES)"," an agent who receives special training and demonstrates the expertise to navigate the unique housing needs of clients age 50 and older. "Services to seniors are changing to meet the lifestyles we live. Senior communities are changing to meet the expectations of baby boomers and today's retirees"," too","" says Carol Kairis"," managing director"," SRES Council and Specialties"," National Association of Realtors.
"The range of senior housing options is diverse and would surprise many Americans who often think of senior housing as only nursing homes. Assisted living facilities address the needs of those who need support services"," and continuing care retirement communities are wonderful options for those who wish to age in place."
Nationwide"," more than 16","000 realtors have attained the SRES designation. In the same way a real estate agent recommends a plumber or landscaper to a client"," an SRES agent assembles a team to address client needs — repair companies"," professional organizers"," estate sales agents"," and senior move managers who pack"," transport and unpack in the new location.
"An SRES agent can help you develop a strategy"," then bring in a team to help take one room at a time to organize and dispose of goods. They can help you decide where you're going to go"," and recommend a mover","" says Armand Christopher"," a seasoned SRES real estate broker and member of the SRES National Advisory Board of the National Association of Realtors.
Christopher has an active practice in the Dallas-Fort Worth area and offers these tips no matter where seniors live:
Plan ahead. Don't wait for a health crisis to start the process. The smoothest transitions occur when the person moving is in the driver's seat.
Engage professionals. SRES agents understand the dynamics of a senior move. They are trained about the benefits and drawbacks of reverse mortgages and can help you understand how to use pensions"," 401K accounts and IRAs in real estate transactions. They also know how Medicare"," Medicaid and Social Security will affect your real estate decisions.
Get a full assessment of the current situation. Physical care needs and financial resources are where to start. Consider the costs of staying in place"," including renovation and ongoing maintenance. Add the cost of rising utility bills and taxes"," and don't forget transportation and food. Make a list and decide whether it's cheaper to stay or move to a community designed for seniors.
Take a multi-phase approach. Christopher says his customers often take longer than a year to actually make the move. An SRES agent can connect the senior with professionals to help walk through the process.
Fully explore new housing options. Senior living offers a broader range of options than ever before. SRES agents have an understanding of the services each type of community can provide and can best match the client with the right place.
Christopher and other SRES professionals use SNAPforSeniors (www.snapforseniors.com)"," an online search tool that is akin to the Multiple Listing Service for senior housing. The SNAPforSeniors database includes more than 60","000 licensed senior housing facilities in the country and is available at no charge.
"It's a great tool","" Christopher says. "Especially when adult children live out of state and are working with their parents on a move"," I tell them about options I find on SNAPforSeniors. Typically seniors want to relocate close to their children"," and the online search allows adult children and their parents to search research options and start the search together."
Courtesy of ARAcontent
---