Easy Home Improvements that Add Value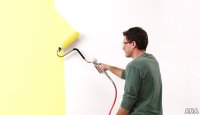 (ARA) – You can open the real estate section of any newspaper today and you're likely to read about how poor the housing market is. With home sales slow and market prices reduced, many people are choosing to stay put and make changes to their current home.
'Some homeowners view the lull in the real estate market as a valuable time to make positive improvements to their home,' says Andy Olson, product manager at Wagner Spray Tech. 'If the cost of remodeling gives you sticker shock, there are many other projects that increase a home's value that you can easily do yourself.'
Enjoy your home today and make it stand out from the rest in the future by considering these DIY home improvements:
An Updated Exterior The first thing that anyone notices, from visitors to potential buyers, is the exterior of a home. If yours hasn't been repainted in a long time and suffers from faded, scratched and chipped paint on the siding or trim, this is a project you can do yourself that will dramatically increase curb appeal.

To ensure a good result, begin by removing dirt and other debris from the surface to be painted. Look for areas where paint is chipped or bubbled and remove with a wire brush or wide-blade putty knife. Using an electric sander can also be helpful.

When painting, use tools that are made specifically to help ease and expedite the process. The Paint Crew Plus by Wagner helps tackle large projects like painting a house and produces quality results. The paint sprayer applies a professional level paint application and features variable pressure control to apply both thick and thin materials. A rugged wheeled cart makes maneuvering and transporting the Paint Crew Plus quick and effortless.

Use high pressure for spraying thick exterior latex paints. A brush will be your key tool for updating details like the front door and trim. A quality paint job will make your house stand out from the rest on the block and will last for many years to come.

A Fresh YardContinue to increase curb appeal by taking a look at your yard. A manicured lawn and strategically placed plants will enhance the appearance of your home and is also very enjoyable for those that live there.

Clean up any dated lawn decor, garden tools, or other items, especially in the backyard where they sometimes collect. How does your patio furniture and deck look? If they are worn, it's time for an update. Use a paint sprayer on low pressure for thinner materials like stains. Repaint other items such as pots and children's toys for a fresh, new look.

An Interior FaceliftYour walls are a key component for an updated interior appearance. Consider a new paint color for an immediate facelift that will make any room appear cleaner. Light paint colors work well because they always brighten a room. If you are feeling daring, think about trying one of the deep and beautiful colors that are popular right now in the color palettes at many paint companies.

A good roller is the DIYer's best friend for interior wall painting. Start by filling in holes and nicks with putty. Sand and spot prime those areas before painting. Priming helps ensure a professional looking paint job that lasts longer, so it is worth your time. After walls have been primed, apply paint with a hand roller or for continuous paint flow, use the roller arm attachment included with the Paint Crew Plus and enjoy the fresh look of your home.

Update DetailsIt's the small details of a home that can really make it look dated. Do you still have the same lamps as you did in the 70s? Consider replacing them with updated versions. If you can't afford to replace light fixtures, why not just replace the shades and light covers for a new look? Other home accessories like knobs and handles in the kitchen and bathroom can be an affordable way to update the area without a costly cabinet replacement. New photos and artwork also add a nice touch that is sure to be enjoyed today and make your home look more modern and stylish.
For more information visit www.WagnerSprayTech.com.
Courtesy of ARAcontent