Treat Your Home to the Hottest Decorating Trends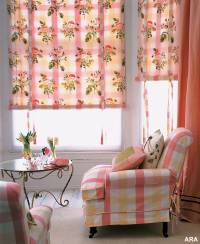 (ARA) – Home fashions, like clothing fashions, are always changing. There are updated silhouettes, new color palettes, and fresh fabric designs. And just as with fashion, you need to find a way to personalize the latest trends in a way that fits your home and your lifestyle. What better time than spring to breathe some fresh air into your décor? Get rid of the dark colors and heavy fabrics that kept you cozy during the winter, and lighten it up for spring.
Painting is an easy, inexpensive way to create a whole new feeling in a room. According to the experts, the newest trends are at opposite ends of the spectrum: naturals are all the rage, but so are various shades of orange, from orangey-red to coral and apricot. Choose a color that complements your existing furniture and one that makes you feel relaxed. If you love bright colors, then add a dash of orange, pink or apple green. But if you find warm, natural tones more calming, then choose something like a nice mocha color.
Next, take a look at the other items in the room. Could the sofa use a new, lighter look for spring? Before you start shopping for new furniture, consider slip covers. If the sofa is in good shape, but just needs a little pick-me-up, this is an inexpensive solution. Lifestyle catalogs and department stores sell one-size-fits-all options; for a sleeker, more custom look, you can create your own slipcovers using one of the many patterns available at your local fabric store.
Another quick, easy fix is new curtains. Interior designers are seeing a trend toward simplicity in window treatments, which is good news for home sewers. Gone are poufy, layered looks. In are simple valances and side panels, which are basically nothing more than large rectangles with hems on all sides. Of course, having the right equipment helps make any project more successful. 'I love my Bernina machine for home dec because I can sew on the sheerest fabrics for curtains and then switch to many layers of upholstery fabric for a slipcover,' says Linda Lee, author of 'Designer Home Sewing.'
'Bernina has machines that include the latest innovations to make every project easier,' says Gayle Hillert, vice president, education and training for Bernina of America. For example, every machine offers precision stitching, which lets the user control one stitch at a time – or even half-stitch by half-stitch. Another useful feature is the free hand system, which allows the user to lift the presser foot and lower the feed dog using a knee-activated lever. This is especially useful when maneuvering slippery or bulky fabrics under the needle, and for applying trims to decorator pillows and window treatments.
Throw pillows are another quick room brightener. If you can sew a square together, you can make a pillow. Add a few stylish embellishments, and people will think you bought them at a fancy home furnishings store. Many Bernina machines feature embroidery functions as well as decorative stitches that you can use to personalize your pillows. Add some fringe or other trim for a final touch.
With an investment of a little time and some fabulous fabric, your home will be sporting a new, personalized spring look that reflects the style of the season.
Courtesy of ARA Content
---