Spruce Up Your Space with Quick Fix-Ups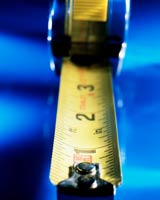 (ARA) – Still putting off home improvement projects that need attention? Consider tackling small, easy, cost-effective projects that still can make a dramatic difference.
'Many fix-ups do not necessarily call for hours of physical labor, sweat and tears,' said Vince Rogers, Store associate of JS West Lumber & Ace Hardware, Sonora. 'A number of projects can be accomplished on the weekend, or even in an evening, to give your home a fresh new appearance.'
Following are some ideas that require just a few hours, a little elbow grease and won't break your budget:
* Carpet Clean Up: If your carpet shows stains and dirt, consider performing a deep cleaning to enhance a room's decor. 'While it's smart to treat stains right away, many new products will reduce the appearance of stains that have been there for some time,' said Rogers. Many local hardware stores rent carpet extractors for those who don't own one. To get rid of ingrained stains from food, drinks or pets, use a heavy-duty stain remover to lift out dirt and grime while deodorizing.
* Hardwood Floor Freshener: Do your hardwood floors appear dull? Bring them back to optimal condition with a cleaner made specifically for hardwood surfaces. Use a convenient water-based, non-toxic spray designed for polyurethane finished hardwood floors that will not leave behind residue or dulling ingredients.
* Furniture Fix-Up: Re-upholstering furniture can be pricey, so first consider repairing tears, stains and spots yourself. An upholstery shampoo or mild solvent followed by light brushing or vacuuming can gently lift dirt out of the fabric. 'Spot-treating a small section of the fabric first to ensure the cleaner won't affect the texture or color,' suggests Rogers. Wood furniture is easily brought back to life with specialty wood polishes designed to help to hide imperfections, as well as remove dirt and wax build-up.
* Lighting Lift: Nothing brightens a room or brings out the true colors of your décor like new lighting. Consider installing light-dimmers, color-enhancing light bulbs and even decorative switch plates to give your lighting a lift. 'Installing a new light fixture, moving lighting fixtures around the space or highlighting specific wall art can bring a fresh ambiance to the room,' said Bill Roberts, another Store Associate.
* Wall Work: Unsightly scuffs, scratches and marks often mar walls in busy households. Use a wall-specific cleaner to remove light mildew, grease, food and smoke discoloration. If walls are too dirty to spot-treat, consider repainting them. One paint to consider is Ace Sensations