Hints to Prevent Home Improvement Haywire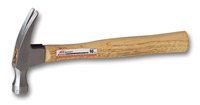 Ready for the latest top 10 list?
This one will be of particular interest to weekend warriors who wield hammers, paint brushes and screw drivers.
Vince Rogers, Store Associate of JS West Lumber & Ace Hardware shares a top 10 list of the most common mistakes, mishaps and miscues he has witnessed in his more than 35 years in the hardware business, while offering solutions for each misstep in the home.
Buying cheap tools.Having the proper tools helps DIYers (do-it-yourselfers) complete home improvement tasks safely and successfully. Cheap tools are not as durable or reliable. Better quality tools improve a homeowner's chances of gaining quality results. Plus, when tools come with a lifetime guarantee that really means they are guaranteed for life.

Choosing the wrong paint finishes for your home.There are two simple rules to abide by when deciding on which paint finishes to use in your home – flat paint is best for ceilings and satin or eggshell paint should be used for walls. The latter finishes resist stains better than other finishes and have a more lustrous look, making them an excellent choice for playrooms, halls and bathrooms.
'For best results DIYers also should use two finish coats of paint for every wall or ceiling project,'