Ten Tips to Liven Up Your Deck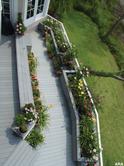 (ARA) – Your kitchen might be the heart of your house, but your deck is the heart of your backyard. It's the place where you gather with friends and family, enjoy home-cooked meals, and relax after a long day at work.
So it's important that you choose wisely when considering materials for the centerpiece of your outdoor oasis. You'll want decking material that lasts a long time and won't need to be replaced five or ten years down the road.
Composite decking is a growing trend and a smart choice. Brands such as GeoDeck work just like wood — easy to saw, drill, cut, and nail with standard woodworking tools. Plus, it's blended with a patented ingredient that makes it virtually fade resistant. Once your deck is in place, you can surround it with some well-deserved accessories. Here are 10 tips to make your deck the best it can be.
1. Plant an herb garden
Nothing spices up your outdoor living area better than an herb garden. Pick a spot where the sun shines all day and plant light-loving herbs. You'll thank yourself every time you take a bite into a sandwich with homegrown basil leaves and sun-warmed tomatoes.
2. Decorate with flowers and plants
Gardeners have come a long way since the days of window boxes exclusively latched onto windows. Now you can get a boost of color by putting window boxes on your deck's railing system. And don't forget about free-standing planters — the perfect complement to your window boxes. Plus, planters can be built from composite decking materials; they'll be a perfect match with your new deck.
3. Install a fountain
The soothing sound and movement of water will bring a tranquil setting to your yard. And humans aren't the only ones attracted to a trickling fountain — birds and butterflies love it too. It's an easy, do-it-yourself project. All you need is a tub, filter and pump from a nearby garden or home improvement store.
4. Light your deck artfully
Brighten up your deck with a variety of low-voltage lights. Strategically placed fixtures such as path lights, cone lights, and fountain lights can blend in with the landscaping while accentuating your deck after the sun does down.
5. Start a fire
People have always been drawn to fire. And Chimineas are drawing people out of their homes and onto their decks year round. These outdoor fireplaces are available in hundreds of styles and create a cozy atmosphere in your outdoor living space.
6. Create a bug-free atmosphere
Your backyard should be a welcoming place for friends and family. But certainly not for bugs. Citronella candles will keep unwanted guests from showing up. Be sure to spray your lawn and trees with a permethrin-based mosquito spray and use bug repellent that contains DEET.
7. Rely on a drip irrigation system
Tired of spending an hour every day watering plants and flowers? You don't have to if you purchase a drip irrigation system. Everything from planters to window boxes is available with built-in watering systems. Hire a professional to install hidden drip irrigation or go to your local garden or home improvement center to learn other simple installation methods.
8. Bring the office outside
If you have a wireless network, you have no excuses for staying indoors while working on the computer. Make the most of your wireless network and get a change of scenery. You'll be amazed what a little fresh air will do for your workday.
9. Pump up your entertainment system
Install a state-of-the-art outdoor stereo system and leave that clunky boom box and extension cord inside. Tastefully placed speakers will not only blend within your outdoor surroundings, but they'll provide a top quality sound system that's perfect for entertaining.
10. Build an outdoor kitchen
Sure, grilling chicken kabobs is fun, but there's more to outdoor cooking than just grilling. Make an outdoor kitchen! Pick a spot with minimum exposure to the elements and protection from the wind. You also need to allow for utilities such as plumbing and electricity. But most importantly, design your outdoor kitchen with one thing in mind: comfort.
Ready to start planning your outdoor oasis? Visit www.geodeck.com/tips for some design tips to get you started.
Courtesy of ARA Content
---