More Natural Light Used in Remodeling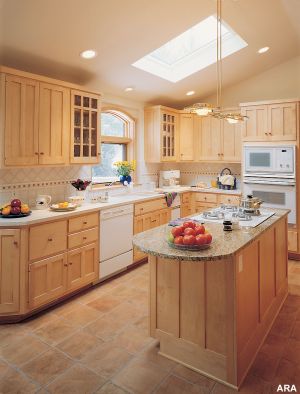 Speaking at the National Builders' Show in Orlando in January, Baker said that 'remodeling seems to be showing more strength than new homebuilding at present and as new home construction eases over the years ahead, remodeling is going to hold its own.'
At the Orlando conference, the National Association of Home Builders projected that home remodeling, including everything from room additions to appliance upgrades, will rise by about 5 percent over the next few years.
Kitchens and bathrooms are still at the top of homeowner remodeling lists. Expanded laundry rooms, larger and closer to living areas than in the past for additional convenience, are also growing in popularity.
According to Joe Patrick, senior product manager for VELUX America, 'All of these rooms are getting more attention with regard to natural lighting and ventilation since they are subject to higher temperatures and humidity than other areas in the home due to cooking, bathing, and washing/drying activities that generate heat and moisture.'
Patrick says that energy-efficient skylights are being utilized to a greater degree in remodeling, as well as in new construction, to provide more natural light and ventilation.
'Skylights, in concert with vertical windows, can cost-effectively provide more balanced natural lighting in all areas of the home, helping to reduce power bills,' Patrick says. 'And venting skylights in kitchens, baths and laundry areas remove stale, heated air quickly and quietly with no added energy costs. Plus, remodeling dollars spent in kitchens and baths bring the best return on your investment for your own use as well as when you're ready to sell.'
In areas where traditional skylights aren't needed or won't fit, VELUX Sun Tunnel skylights can bring natural light into hallways, closets, smaller interior baths and other areas of the home. Less expensive in many cases than traditional skylights, they can be installed in a morning by a handy DIYer and are used extensively in areas of the home where a view to the outside is not required.
And now is a particularly good time to consider upgrading existing skylights or adding new units to qualify for a tax credit of up to $200 under the Energy Tax Incentives Act of 2005. Details are available at www.energy.gov/taxbreaks.htm.
For information on skylight selection and the benefits of natural light call (800) 283-2831 or visit www.veluxusa.com. For government information on window and skylight energy efficiency visit www.energystar.gov, and for independent agency information visit www.nfrc.org or www.efficientwindows.org.
Courtesy of ARA Content
---