Keep Your House Cool during the Dog Days of Summer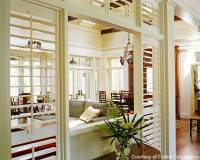 (ARA) – It's not easy keeping a house cool during the long, hot, dog-days of summer, but according to interior design experts at The Art Institutes, there are steps you can take to not only make your house cooler, but also more environmentally-friendly, energy-efficient and enjoyable to be in.
Start with windows. Even in the summer, homeowners want to experience the long days of daylight the warmer months bring, but old or inexpensive windows can make a house hot by allowing heat to transfer into rooms.
Mishelle Lewis of the interior design faculty at The Art Institute of Atlanta explains, 'If you want your home to be cooler in the summer, and warmer in the winter, good quality vinyl or wood windows can make a significant impact on your home's energy efficiency.' Look for windows that use low e-glazing on the glass, she says, which cuts down on UV's and heat transferring from the outside.
Consider horizontal blinds or shutters on both interior and exterior windows, says Christopher Priest, academic director of interior design at The Art Institute International Minnesota. 'When using blinds or shutters, position them so the sunlight is directed upwards towards the ceiling. This imitates the effect of a skylight by providing indirect, natural light indoors with little impact on cooling cost,' he says. Wood blinds and shutters make the best choice because metal blinds can actually conduct heat into a room.
Fans are another popular way to cool a home when air conditioning is not an option. According to William B. Lanigan, chair of the interior design department at The Art Institute of Houston, 'Fans are a cost effective and efficient way to cool the house. Heat rises so fans help disperse the heat and circulate air. It's all about air circulation when you are trying to beat the heat in the summer.'
Don't forget lighting. Lewis recommends minimizing overhead lighting. 'If you are reading or doing a task, use a lamp instead of turning on an overhead light,' she says. Every time you turn on an overhead light, 'You not only burn energy through the light source but the incandescent light bulbs produce heat that your AC must now work harder to cool.'
Lewis also likes compact fluorescent lighting which has 'come a long way.' Daylight bulbs are bright and white, but there are also soft tones which are closer to the standard incandescent light bulb. Compact fluorescent light bulbs use less energy and produce less heat.
As for fabric and colors, Jerry Van Slambrouck, an instructor in the Interior Design department at The Art Institute of California – San Francisco, subscribes to the British tradition of using light colored fabric slip covers over furniture in the summer. 'This is true for floor coverings as well,' says Van Slambrouck. 'Wool, oriental carpets are rolled up in the summer and light colored sisal area rugs replace them.'
This follows the basic principle that dark colors absorb and hold heat while light colors reflect heat. Van Slambrouck uses this approach for interiors he designs today as well. 'I recently designed the interior of a Victorian Napa ranch house, using dark, plush Oriental rugs on the floors and darker colored mohair and wool upholstery fabrics for the seating. I also had sisal area rugs made in the same sizes as the Oriental rugs and white muslin slip covers for the furniture for summer.'
The Art Institutes (www.artinstitutes.edu) with 32 educational institutions located throughout North America, provide an important source of design, media arts, fashion and culinary arts professionals.
Courtesy of ARA Content
---