Upscale Fireplaces Combine Form and Function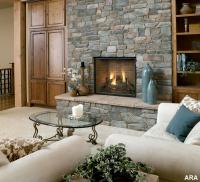 (ARA) – Relaxing comfortably in front of the fireplace is a time-honored way to spend a crisp autumn evening at home with family. If the first cold snap sends you indoors to embrace the warmth of a comforting fire, you'll be happy to know that luxurious design has now met modern fire technology – making high-quality fireplaces the 'hottest' home appliance trend this season.
Just as homeowners now require stainless steel kitchen appliances and energy-efficient washers and dryers, many consumers are now becoming 'smarter' about the fireplaces used in their homes. Increasingly, homeowners are asking for heat sources that not only create warmth and comfort for the whole family, but also offer the finest in style and efficiency.
Thanks to modern technology, many of today's fireplaces are a far cry from the unattractive and inefficient hearths of the past. Whether you're designing your dream home, or just looking for an easy way to maximize comfort and save heating costs this season, remember the following when considering this popular home upgrade.
Go to the Source.
It all begins with knowing which fuel source is most appropriate for your needs. Natural gas is a convenient way to have a warming fire at the flip of a switch or remote control. For more rustic or rural home settings, wood is the preferred fuel source for its classic 'crackling' sound, and its low-cost and availability. As an interesting alternative, pellet stoves have become a popular heat source. Pellet stoves use recycled wood 'pellets' normally destined for landfills, and many can also burn dried corn, a fuel type readily abundant in many parts of the country.
Efficiency is Important.
One of the most critical performance measures of any heating appliance is the overall efficiency. This important data tells you how much of the generated energy is turned into useful heat – and is especially important with rising fuel costs nationwide.
'Heating appliances these days are no longer the fireplaces of old, ' says Kurt Rumens, president of Fireplace Xtrordinair (www.fireplacex.com). 'If you have an older fireplace, the efficiency difference can be drastic when compared to newer fireplaces. You can easily get more heat for your money and help avoid high-energy bills by upgrading an existing fireplace.'
Consider Zone Heating.
Forced air heating systems distribute heated air from a central furnace unit through ducts to all areas of the home – even unoccupied rooms, thus wasting money. By contrast, an efficient fireplace emits warmth directly into the living space needing heat. This approach reduces household energy usage, while increasing ambiance and comfort levels to the areas used most. Only heating the rooms you use is an obvious cost-effective heating solution.
With a wide variety of high-efficiency stoves and fireplaces available, there are now zone heating solutions for practically every room in the house. From large gas fireplaces in the living room or master bedroom, to compact pellet stoves for a small basement or alcove in the corner of the house, you can now have warmth and efficiency wherever you desire.
Remember Architectural Consistency.
Simply put, architectural consistency is a matter of replicating a particular architectural style in finished materials. And maintaining architectural consistency makes all the difference between a fireplace that looks like a cheap add-on and one that looks like it's an original part of the home.
For example, Fireplace Xtrordinair offers the Classic Arch, a graceful arched opening that frames the fire-viewing area, complementing the gorgeous, dancing yellow-flame fire with flickering embers. This combination of curves has a timeless appeal and universal application to a wide range of architectural styles. Conversely, the Metropolitian faceplate features beautiful grillwork, but in a more linear and retro style. A nearly endless selection of faceplate designs and material choices are now available: brushed nickel, wrought iron, antique gold and hand-rubbed copper are just a few of the products for a cohesive, luxurious look unifying the home's architectural style.
Latest Fireplace Developments.
Beyond the classic look and charming appeal, there is nothing traditional about the latest in fire technology. One example involves advancements in heat output. Some high-quality fireplaces offer powerful heat output blowers that efficiently spread heated air throughout the home. Even better, when combined with a high quality fireplace or stove, these output blowers can help an appliance warm up to 2,000 square feet of space. And because these blowers are whisper quiet and 'hidden' behind the front faceplate design, they circulate heated air without unsightly louvers or audible noise that would sacrifice the traditional hearth look.
If you're interested in utilizing gas as a fuel, another significant advancement involves the actual fire itself. Gone are the days of small flickering blue flames – replaced now with gorgeous, dancing yellow-flame fire and flickering embers. Higher-quality gas fireplaces like those from Fireplace Xtrordinair have flames renowned for a level of realism so remarkable that it's difficult to tell apart from a wood-burning fireplace. Best of all, this combustion system delivers up to 1,200 F of heat output and efficiencies up to 86 percent – for an extremely efficient and beautiful fire.
With the numerous product options, designs and latest developments, today's high-quality fireplaces have never been 'hotter' for fall. For more information on making the proper fireplace decision or to locate a specialty hearth retailer, visit: www.fireplacex.com or call (866) 492-7169.
Courtesy of ARA Content
---