Building 101: Top Considerations in New Construction and Remodeling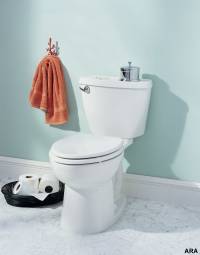 (ARA) – I recently met with a newly married couple, Ted and Jen, to help them design their dream home, which they are building on the upper Mississippi River this year. Plans for the Mediterranean-inspired home are nearly complete, and they asked me about choosing the finishing touches and fixtures.
Ted and Jen did much of their own research, but wanted to make sure they incorporated details that will add long-term value to their property. To stay on budget, most homeowners have to prioritize which features are a necessity now, and which features can be added later.
For your own home construction or remodeling project, consider the following tips that I provided to Ted and Jen.
Fresh AirThe heating and cooling system in your home is one of the most important decisions you can make, since it creates a comfortable environment. Having cleaner, healthier air in your home can help reduce allergy symptoms by eliminating the vast majority of mold spores, pollen and pet dander. Unfortunately, many homeowners often leave the heating and air conditioning choice entirely up to their builder.
Since Ted and Jen wanted to make their home as healthy and comfortable as possible, I suggested that they consider an American Standard AccuClean whole house air filtration system. AccuClean, which attaches to your heating and cooling system, removes 99.98 percent of unwanted airborne particles and is more effective than HEPA filters. This clean air system helps homeowners breathe easier.
More BathroomsDid you know that you can plumb now for future bathrooms and finish them later? Since 1995, the U.S. Census Bureau reports that more new homes are being built with three or more bathrooms. Sometimes finishing all of these bathrooms at once might not be in the budget, and they may not be needed in the beginning. Ted and Jen are in this situation. As Ted's home-based business grows, they're planning to add two more bathrooms to their five-bedroom home to accommodate more visitors — and their current pocketbook. Until then, they're ready with the plumbing connections.
Clean FinishesLike many of us, Ted and Jen want to spend less time cleaning and more time enjoying themselves. Luckily, there are shortcuts to keeping your faucets and toilets cleaner. I suggested American Standard's new EverClean finishes for bath and kitchen faucets. This new permanent finish allows you to remove dried water spots and other dirt from faucets with one wipe. Ted can now turn off the faucet before he dries his hands. In addition, the company's Cadet 3 toilet with the EverClean Antimicrobial Glaze inhibits the growth of stain and odor-causing bacteria.
Taking into consideration the number of bathrooms Ted and Jen have to keep up with, the Cadet 3 made sense for Ted's office area, the main floor powder room and the master bath, because it's easy to keep clean and less likely to clog. (It can flush up to 150 feet of toilet paper!)
Natural SurfacesBecause Ted and Jen chose a Mediterranean design style, natural stone was the obvious choice for flooring. Countertops also will be in natural stone, which has become the most popular choice in countertops today. Theirs will be made of granite, in neutral colors mixed with pewter and a soft sage. By keeping the majority of the home's color scheme neutral, they are creating a clean palette that anyone can accent with dashes of color to update or change in the future.
High Performance Appliances
Jen is quite the cook, and Ted has a large family, so their new kitchen is going to be their home's hub of activity and entertaining. Jen has dreamed of all stainless appliances. I recommend that homeowners be honest with themselves about how long they expect to live in the home and how much they will use these appliances. Keep in mind that today's kitchen may need a serious update in 12 years to keep up with appliance and design styles. Homeowners should buy what makes the most sense for their lifestyle and resale timing.
Outdoor Living Space
Take advantage of your property by making the most of the view and natural light. Outdoor spaces are extended living areas, so porches and patios are just as important as the home. Ted asked for a large, enclosed porch area to extend the short summer for entertaining. Although these areas can be built later, plan for them now to make sure the space works well with your home's structure and traffic patterns — and that the home is positioned on the lot to take advantage of the outdoors.
Courtesy of ARA Content
EDITOR'S NOTE:
Barbara Schmidt, bstyle, inc., is a nationally recognized interior designer and author whose work is published in numerous publications and featured on many television shows.
AccuClean and EverClean are registered trademarks of American Standard.
---