Portrait-Style' Fireplaces Bring Warmth and Value to Kitchens, Baths and Bedrooms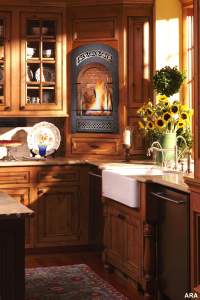 (ARA)(ARA) – Thinking of purchasing a new home sometime soon, or improving your existing one? Many savvy homeowners are making smarter home improvement decisions – choosing projects that yield the highest return on investment.
So which projects will add the most value to your home? According to the National Association of Home Builders, one of the best home improvements is adding a fireplace. Not only do fireplaces add warmth and comfort, they rank among the top three features desired by new homebuyers, and best of all, each fireplace adds about $12,000 in value to the home.
While many people envision a roaring fire within a great room or den, smaller yet unique portrait-style fireplaces are now tucked into kitchen cabinetry, embedded within bedrooms walls or installed above baths. These portrait-style fireplaces are smaller than standard-sized gas versions and ideally sized for bedrooms and bathroom walls, kitchen cabinetry, or virtually any room within the home. And unlike many home improvement projects, portrait-style fireplaces can be installed quickly and easily, thus avoiding weeks of mess and disruption.
For anyone looking to add comfort and value to their home, the timeless appeal and warmth of these unique fireplaces will pay dividends for years to come. If you're considering this 'hot' home upgrade, following are a few key things to consider:
Imagine the Possibilities
In general, portrait-style fireplaces have smaller width and depth designs allowing both corner and flat-on-wall installations – providing the ability to add a beautiful gas fireplace essentially anywhere within the home. For kitchen settings, one can easily be inserted within cabinetry, or installed amidst an adjoining breakfast nook area to comfortably enjoy a cup of coffee on a cool, brisk morning.
Another distinctive application is within bathrooms. A perfectly placed portrait-style fireplace installed above the tub instantly transforms the room into an in-home spa where you can relax and unwind from the stresses of life.
Small in Size, High in 'Zone Heating'
Beyond the compact size, there is nothing small about the latest advancements in heat output from portrait-style fireplaces. Powerful internal convection fans can heat an area up to 650 square feet, emitting warmth directly into the living space needing heat.
This new heating method is called 'zone heating,' and applying it helps reduce household energy usage, while increasing ambiance and comfort levels to the areas used most. Forced air heating systems distribute heated air from a central furnace unit through ducts to all areas of the home – even unoccupied rooms, thus wasting money. Only heating the rooms you use is an obvious cost-effective heating solution.
Keeping In Line With Design
From the most intimate engraved faceplate to the actual flame quality, fireplace appearance elements come in numerous options for a custom look matching every décor. And maintaining design consistency makes all the difference for a cohesive, luxurious look unifying the home's architectural style.
For example, the Bed & Breakfast by Fireplace Xtrordinair portrait-style fireplace offers a graceful arched opening that comes in a variety of materials, such as brushed nickel or antique gold. A wide variety of faceplate designs are available – for a custom look matching every décor. Combining rich design with a generous fire-viewing area not only brings the essence of warmth and intimacy to the home, but also adds a dramatic element to spaces not normally able to accommodate a fireplace.
Follow the Leader
While a number of portrait-style fireplaces have hit the market in recent years, the most innovative and well known is the Bed & Breakfast by Fireplace Xtrordinair. In fact, the Bed & Breakfast was designed with sharing in mind: 'It was created to be in the wall, up off the floor, so everyone in the room can see it and enjoy it from all perspectives,' says Kurt Rumens, president of Fireplace Xtrordinair (www.fireplacex.com). 'And it is especially suited for bedroom settings where previously, the only one who could enjoy an in-room fire was the person on that side of the bed.'
For more ideas on how to incorporate warmth and elegance into virtually any room within the home with the Bed & Breakfast by Fireplace Xtrordinair or to simply locate a dealer, visit:www.fireplacex.com or call (866) 492-7169. It is recommended all Fireplace Xtrordinair appliances be installed and maintained on an annual basis by an authorized, specialty hearth retailer.
Courtesy of ARA Content
---