Preparing for Power Outages: Portable Versus Home Generator Systems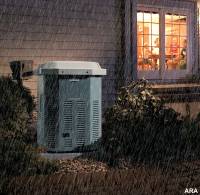 (ARA) – According to the Electric Power Research Institute, about 3.5 million people in the United States lose power each week. As power outages become a way of life in some areas of the country, more homeowners are switching from their portable generators to permanent, home generator systems. The systems receive continuous fuel supply from a home's propane or natural gas supply, and are permanently installed and wired directly to the electrical system to provide automatic standby power in the event of utility power loss.
How do you decide which type of generator is right for your home?
Portable Generators
Portable generators are more versatile than home generator systems, as they can be transported to provide power for home backup power, DIY projects and recreational activities. Portable generators connect to tools or to the home with an extension cord and may be moved to wherever the homeowner needs a power supply.
Homeowners may select from a variety of engine types, fuel tank sizes and outlet types, depending on what type of appliance power is desired. Portable generators are available in manual or electric starting models, and range in price from $500 to $1,500.
One disadvantage to portable generators is that they are unable to power as many appliances at a time — or high-wattage items such as air-conditioners — as home generator systems can.
Portable generators have roots in the construction industry, and although extremely versatile, they do have limitations, especially when being used for residential home backup power. Consumers must move the generator to a safe location outside the home, start the generator, and run extension cords to key appliances inside the home. Having enough gasoline on hand for the duration of the power failure can also be a challenge. Run times are limited to the size of the gasoline tank, which is a critical consideration, especially if the outage lasts more than a day or two.
Home Generator Systems
There is a more efficient solution to power failure. Exclusively designed for residential use, Home Generator Systems supply fully automatic backup power whether you are home or away, receive a continuous fuel supply from a propane or natural gas supply, and are permanently wired to your home's electrical system for hassle-free, continuous backup power. Residential Home Generator Systems are also significantly quieter than most portable generators, and feature a durable, weatherized compartment for an attractive, subtle yard presence.
Recently, the trend has been for homeowners to seek out 'Whole House' power solutions that often result in enormous and costly industrial liquid-cooled standby generators to meet with their ever increasing household power demand. 'You don't really need a larger generator, just a smarter one,' says Scott Alderton, director of marketing for Briggs & Stratton Power Products Group. 'Briggs & Stratton has recently introduced the industry's first line of high efficiency Home Generator Systems — the IntelliGEN Series. Equipped with an advanced computer-controlled power management system and a premium commercial-grade Vanguard engine, IntelliGEN has both the brains and the brawn to efficiently manage the same essential and high wattage household power demands as a more expensive 25kW liquid cooled standby generator,' Alderton said. 'IntelliGEN is also nearly half the size of most liquid-cooled standbys, uses up to 50 percent less fuel, is up to 50 percent quieter, and costs half as much,' Alderton added.
When comparison shopping for home generator systems, evaluate choices based on:
Essential appliances and high-wattage items — what do you want to power?
Energy efficiency — how much fuel does the generator require and how much does it cost to power your appliances per kilowatt?
Overload protection — does the system prevent generator overload due to unmanaged power demand?
Design and operation — how much space does the generator take up and how loud is it when it is running?
Courtesy of ARA Content
---